Navigation is designed to support and coach individuals and families in assessing their own needs, setting goals, connecting to their communities, and celebrating accomplishments on their journey to an empowered future. This framework can serve as a powerful tool within any context such as churches, retirement communities, neighborhood groups, etc. Community Navigation was born out of the idea that this approach can serve as a cross county-wide solution to combat poverty.
Community Navigation is…
Supporting individuals and families seeking to move out of poverty
A person-centered approach where individuals and families identify and establish their own short term and long term goals
Based on an invested transformational relationship
Community Navigation is not only…
A response to crisis
A resource and referral program
A short term or a transactional interaction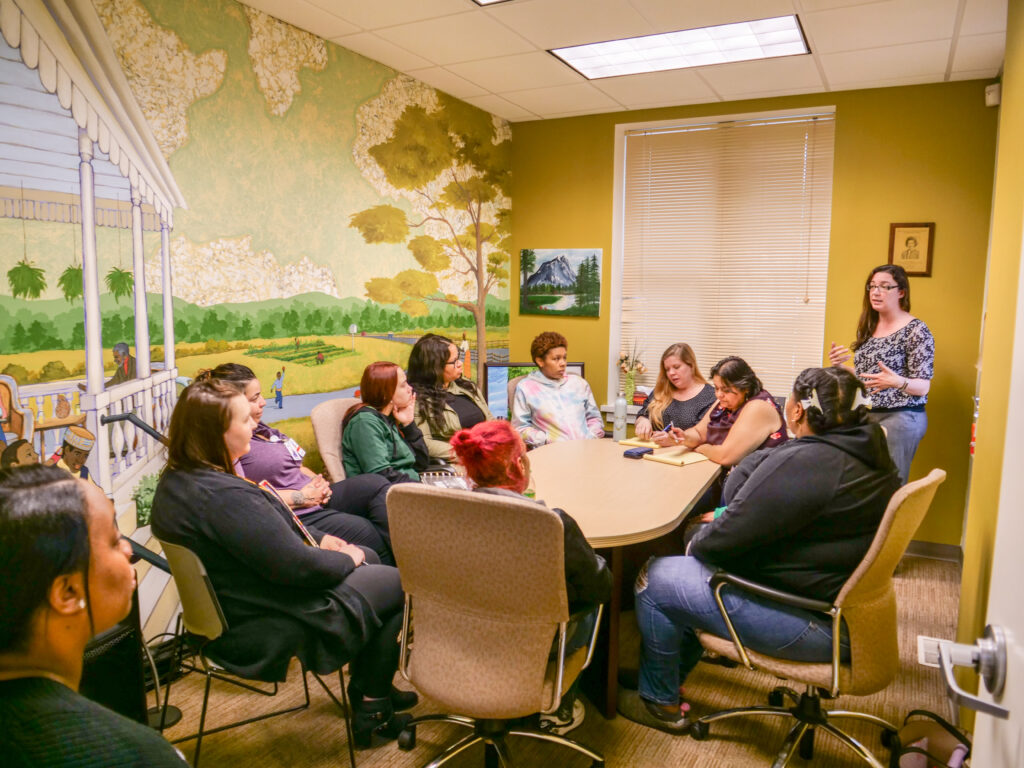 Community Action Partnership (CAP) has been engaged in Navigation work for the past three years. CAP's role is to provide Community Navigation training and continuing education to trained Community Navigators. While CAP provides education and technical support, it is important that every Community Navigator is connected to a host organization such as a church, non-profit, etc. Host organizations serve as an additional layer of accountability and support for Community Navigators.
Community Navigation Training Registration
Community Navigation Frequently Asked Questions
Nuts and Bolts
What is a Community Navigator?

A Community Navigator walks alongside someone in the community who is facing challenges.

Why do I need to get trained?

We want to ensure that no matter what your background that everyone understands the researched based definition and contexts of poverty and that everyone is using common language and best practices to help people.

What qualifications are needed to be a Community Navigator?

Willingness to learn, walk side by side with someone you probably do not know, offer quality community resources and help this person make choices that improve their life.

What organization will facilitate the training?

Community Action Partnership (CAP) is a Lancaster based social services organization that has researched and designed this best practices program for their employee Navigators. They are taking their best practices to create this training for community navigators.

Why are Navigators needed?

It is incredibly challenging to change your behavior if you do not know another alternative, or do not have support to make choices to improve your situation. The Navigation approach makes this much easier because creating a personal relationship with someone who you know will be reliable and supportive, allows a person to experience trust, acceptance and understanding.

Do you need to take multiple classes?

There are three, 2-hour sessions being offered virtually which are enough to get started being a community navigator. There will probably be additional optional trainings on specialized topics like people reentering society after being incarcerated, the immigrant experience or people in recovery that will be offered at a later time for those interested.

Does the class cost anything?

Currently, the cost of the class is covered by a grant with CAP and the Northern Lancaster Hub
Roles and Responsibilities
Who will provide the support to the Community Navigator once they are trained?

Some churches or organizations may want to have their own support group for navigators where they can regularly meet, share stories, brainstorm, share resources and talk. The Northern Lancaster Hub will also have the same type of support group.

What role does the Northern Lancaster Hub play?

The Northern Lancaster Hub is the regional support and resource organization for community navigators, will organize future trainings, and is where to go if you have problems or concerns with navigation. They will host regular support groups for community navigators.

What role will churches have in Community Navigation?

Churches can choose to be active in community navigation if they want. They may want to host navigation support groups, get togethers or trainings.

What role will the pastor play with the Community Navigator?

Pastors can also choose to be active in community navigation as well. However, they may also choose to assign it to another person at their church or give that responsibility to the Northern Lancaster Hub.

What role does Community Action Partnership (CAP) have in Navigation?

They will provide the initial training for navigators and support the Northern Lancaster Hub in their work.
In Depth Navigation Issues
How many people can I walk alongside?

That's a great question! That depends. You may be matched with someone that needs a few things or you may be matched with someone that needs more in-depth help. This will be handled on a case by case basis based on the Community Navigator's needs, skills and desires.

How does someone get referred to Community Navigation?

That person can be working with Ephrata Area Social Services or REAL Life Community Services. Those social workers will determine if the person is appropriate for community navigation.  Area churches or other organizations may also refer people to the Northern Lancaster Hub for community navigation.

What if the problems this person is facing are more than I can handle as a Community Navigator?

There will be regular meetings for community navigators to talk about issues, problem solve, and learn more resources. A community navigator can also call or email the Northern Lancaster Hub as the regional support organization for community navigation.  That being said, after these supports are exhausted, the issues may require further intervention from an organization that has the expertise required.

Am I supposed to do the work for the person I am walking alongside?

Let's look closer at this. Community Navigation is designed to be a support for someone, a sounding board, a check-in.  It is important that the person is making the calls, filling out forms, doing the work because this is their life and we want them to be empowered to lead it. However, there are times where these tasks can be overwhelming, depending on a person's situation and at the start they may need a little more hands-on help.  So, look at the overall situation.  If it feels uncomfortable or you are unsure you could talk it out with the person you are supporting or ask for help yourself from other community navigators or the Northern Lancaster Hub.

Is navigation work confidential?

You are creating a relationship with someone who needs support and might share personal aspects of their life. Respecting privacy is very important. Of course, you can talk about being a community navigator with other people. They might want to become one as well.  But, please keep details about the people you are working with to yourself. That is one way to build trust as well.

Can I share my faith with the person I am navigating?

Please be very thoughtful about this issue when talking to the person you are working with. Community Navigation is designed to walk with people to help them achieve their goals.  Unless you know that someone is receptive to your type of faith, it may create an environment that is uncomfortable and might make it challenging for the person to ask you for advice. Community Navigation is not designed to be rooted in any faith and it will remain that way.