In this season of gratitude, our hearts are filled by your generosity through the year in helping us to ensure survivors and their families live free from domestic violence. Wishing you and your loved ones a joyful holiday season and a peaceful new year.
Donation
Your gift of…
$2,000 provides attorney representation in a child support or emergency custody action.
$1,000 supports a family of five for one week in our Safe House or a local hotel.
$500 provides one Economic Empowerment group for Bridge House residents.
$250 provides three empowerment counseling sessions for a community client.
$100 provides a night of safe shelter for a family fleeing domestic violence.
$50 will buy sheets, towels, and personal care products for a family of four in the Safe House
$25 will provide a backpack filled with school supplies and welcoming items for a child entering the Safe House
$25 will provide a "welcome basket" for an adult Safe House resident
---
Giving is just not about making a donation, it's about making a difference. Domestic Violence Services (DVS) is grateful for any and all donations that can help an individual and/or their families' lives. Domestic Violence Services, which provides emergency shelter, counseling, legal and housing services, and children's programming for victims of domestic violence and their children. We're always looking for donations for the residents at the DVS Safe House.
Women's underwear/socks
Boys' underwear/socks
Girls' underwear/socks
Personal care items (full size items – not travel size)
Diapers (larger sizes: 4, 5, 6) & wipes
Household cleaning supplies
Towels & washcloths
Bed Linens (twin and full sizes)
Blankets and comforters (twin and full sizes)
Baby monitors
Gift cards ($25 minimum) for gas stations, grocery stores and Uber
Household items
Pots & pans
Mugs & plastic cups
Dinnerware sets
Cutlery
Cooking tools
Knives
Gently used/new furniture – please contact us for current needs
If you're hosting a donation drive or have any questions, email Angela Keen, DVS Volunteer & Community Outreach Coordinator, akeen@caplanc.org
---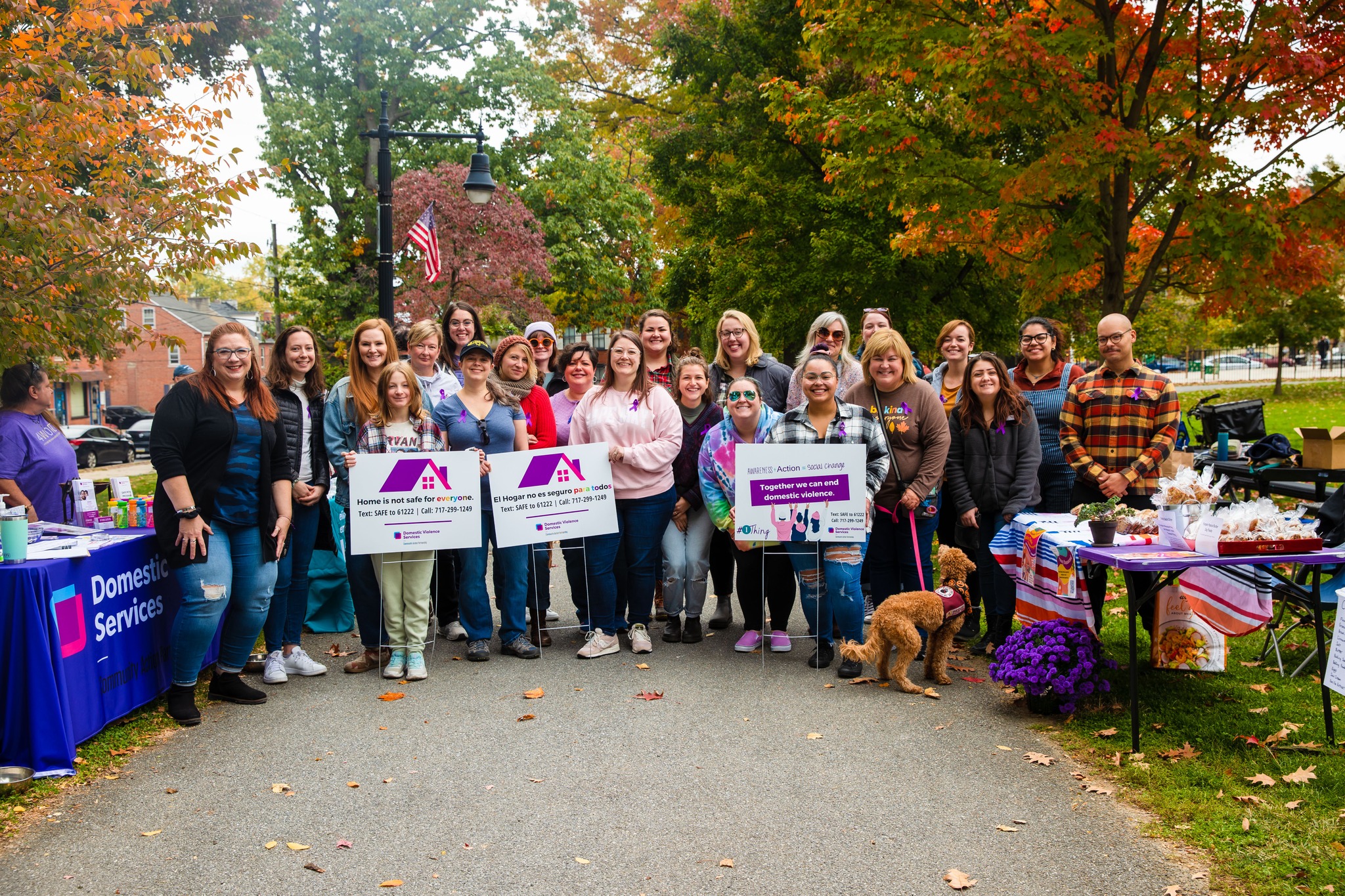 Partner with us and continue the conversation
Do you want to help domestic violence survivors, but you aren't sure what you can do? We're here to help.
We hope you will join us in standing up for survivors in October and throughout the year. Here's how you can get involved:
---
About Domestic Violence Services
DVS is a catalyst to eliminate domestic violence in Lancaster County through direct service, advocacy, and social change. DVS offers 24/7 hotline and text line, emergency shelter, counseling, children's programming, legal advocacy and representation, and transitional housing. All services are free of charge and strictly confidential. DVS hosts professional trainings and community education and prevention sessions for schools, businesses and community and faith-based organizations. For more information, visit caplanc.org/DVS.