CAP provides birth-5 early childhood education services throughout Lancaster County.
Our programs provide children with early childhood education, family support services, nutritious meals and health screenings.
CAP's early learning program emphasizes language, math, science, art, physical activity and social skills to prepare children for school success.
Special services are available to ensure that all children can fully participate in the program.
Eligibility
Eligible children must be between birth and 5
Homeless children, foster children and families receiving Temporary Assistance for Needy Families (TANF) or Supplemental Security Income (SSI) funds for disabilities are eligible regardless of the income guidelines.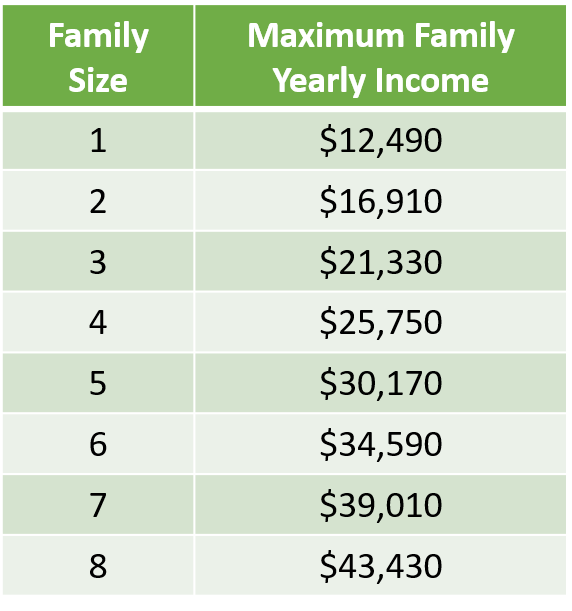 * Add $4,320 for each additional person.
Over Income?
Services still may be available. Please call 717.299.7388 ext. 3012 for details.
Need full day care?
ELRC subsidy accepted. Families can access full day services at our CAP Early Learning Center, which is licensed by the PA Department of Human Services and holds a STAR 4 rating in the Keystone Stars program. To learn more about the ELRC subsidy, click here.
Enrollment
To enroll your child, please contact Bobbie Frick by email or by phone: bfrick@caplanc.org or 717.299.7301, ext. 3012.
Locations:
Brecht Center-Based
1250 Lititz Pike
Lancaster, PA 17601
Phone: 717.799.9712
Donegal Elementary School
1055 Koser Road
Mount Joy, PA 17522
Phone: 717.492.1345
Denver Primary School
700 S 4th Street
Denver, PA 17517
Phone: 717.366.1501 ext. 4124
Clay Elementary School
250 Clay School Road
Ephrata, PA 17522
Phone: 717.333.1937
Columbia Head Start Center
815 Wright Street
Columbia, PA 17512
Phone: 717.684.2706 ext. 302 or, ext. 304
CAP Early Learning Center
Francine Bunch
601 S. Queen Street
P.O. Box 599
Lancaster, PA 17608
Phone: 717.299.7301, ext. 3066
Highland Elementary School
99 Highland Avenue
Ephrata, PA 17522
Phone: 717.333.1953
Lititz Center
Lititz United Methodist Church
201 East Market Street
Lititz, PA 17543
Phone: 717.625.3362
Or, 717.333.3362
Mount Joy Career & Technology Center
Lancaster County Career and Technology Center
432 Old Market Street
P.O. Box 537
Mount Joy, PA 17552
Phone: 717.653.3000, Ext. 3057
Or, 717.333.8198
Baron Elementary School
123 E Gamby Street
Manheim, PA 17545
Phone: 717.665.8995
Pequea Valley/Together Community Center
3293 Lincoln Highway East
Paradise, PA 17562
Phone: 717-468-4976
Washington Elementary School
545 S. Ann Street
Lancaster, PA 17602
Phone: 717-291-6275 x 14003
East Petersburg Elementary School
5700 Lemon Street
East Petersburg, PA 17520
Phone: 717.569.1211 Ext. 30133 or, Ext. 30204
Lafayette Elementary School
1000 Fremont Street
Lancaster, PA 17603
Phone: 717.615.5484
Quarryville Elementary School
211 S. Hess Street
Quarryville, PA 17566
Phone: 717.464.1324
Reamstown Elementary School
44 South Reamstown Road
Reamstown, PA 17567
St. James Episcopal Church
119 N Duke Street
Lancaster, PA 17603
Lampeter-Strasburg (home-based)
40 W. Main St.
Strasburg, PA 17579
Phone: 717.333.1939
Millersville University
STEM Classroom
Bard Hall
60 Brooks Drive
Millersville, PA 17551
Phone: 717.871.4395
Martic Elementary School
266 Martic Heights Drive
Holtwood, PA 17532
Manor Middle School
2950 Charlestown Road
Lancaster, PA 17603
Brecht Elementary School (home-based)
1250 Lititz Pike
Lancaster, PA 17601
Phone: 717.684.2706 ext. 302 or ext. 304
Akron Elementary School
125 S 11th Street
Akron, PA 17501
New Holland YMCA
123 N Shirk Road
New Holland, PA 17557
Elizabethtown
800 East High Street
Elizabethtown, PA 17022
Solanco (Home Based)
Living Stones Vineyard Church
2292 Robert Fulton Hwy
Peach Bottom, PA 17563
Phone: 717.615.5489