Navigation is designed to support and coach individuals and families in assessing their own needs, settling goals, connecting to their communities, and celebrating accomplishments on their journey to an empowered future.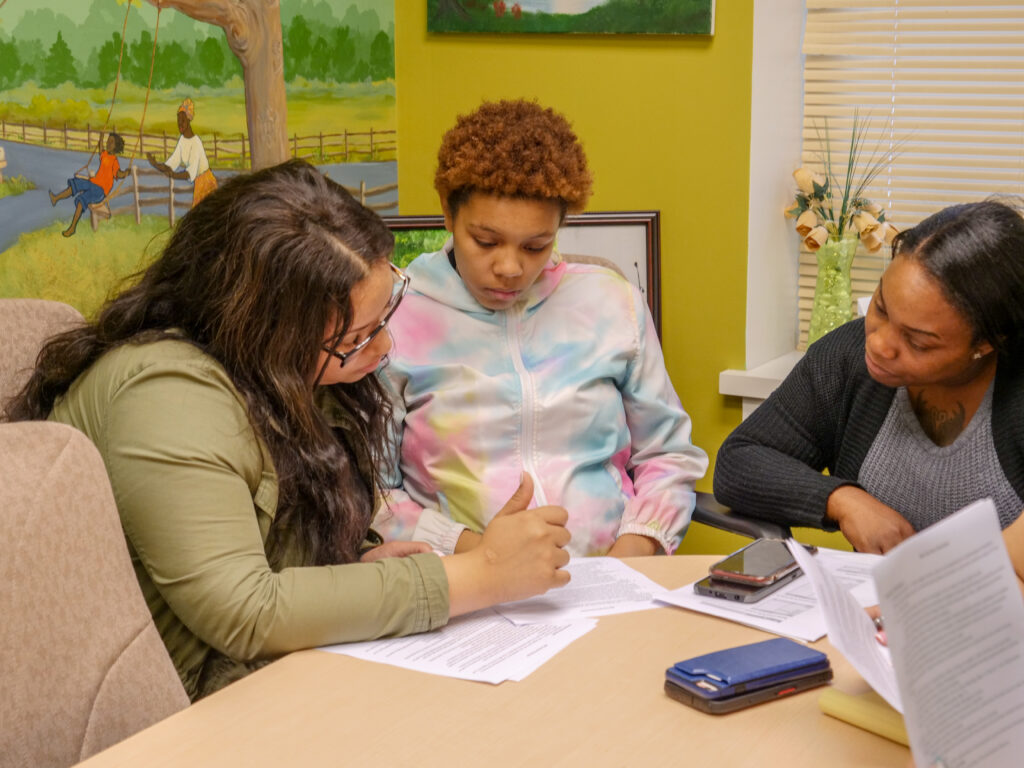 Navigators provide targeted support with goal planning and action steps. CAP Navigators use a person-centered, strengths-based approach to care – meaning the person is in charge of defining their own goals and where they would like to be. The Navigators are available to offer support, guidance and resources to make the journey achievable. Navigators help keep participants on track and motivated to accomplish their goals.
Services
CAP Navigation services include, but are not limited to:
Strength-based assessments
One-on-one coaching
Long term goal planning
Triage interventions
Resource and Referral
Workforce Development
Community collaboration
Eligibility
Navigators are available to support anyone who is motivated to build and execute their life plans.
---

Teen ELECT
Teen ELECT Parenting Program provides prenatal and postnatal services to pregnant and parenting teens and young adults enrolled in the School District of Lancaster.
ELECT staff walks alongside students providing practical supports to help students complete their high school education, gain economic independence and become effective parents.
Services
1:1 Support from Parent Navigators
Liaison between SDoL and community
Quarterly Home Visits
Monthly Support Groups
Transportation Assistance
Family Support
Referrals to Community Agencies
Summer Education Programming & Field Trips
Eligibility
Pregnant and parenting students in the School District of Lancaster under the age of 21 enrolled in school or GED program. Students under 18 must have parental consent.
Enrollment
Referrals may be made by the student themselves, a family member, medical staff, community agencies, and the County Assistance Office. Please contact the Teen ELECT Program Coordinator for more information:
Phone: 717.291.6102 ext. 30603 | email: jleon@caplanc.org
JP McCaskey High Schol Room 160
445 N. Reservoir St. Lancaster PA
---

Front S.T.E.P.S
The experience will be customized to each individual to support and coach them in assessing their own needs (could be soft skills, life barriers, etc.), setting career goals, and increasing their connections and networks while also earning $10 an hour.
The on average 3  week, 30 hours a week experience will include:
Meetings with navigation and a recruiter
Job shadowing on construction sites
Intentional goal building and accountability checks

 

Connection to other support services and community resources
A good fit for this program would be:
Desire to work in construction

Willingness to develop a goal plan to support economic stability
Availability to participate in the program
Looking For Construction Experience?
Join the Front STEPS program!
$10 per hour
3 week experience
1:1 Career Coaching
Opportunity for job placement with a construction company or on the job training program
Click here to download the flyer (.pdf)
For more information, email jparry@caplanc.org. You can also call at 717.333.1918 and ask for Jostalynn Parry-Redd.
---

Donate
The Navigation Stability fund
The Navigation Stability fund provides small grants to enrolled families for necessary costs related to employment, service access, or household stability such as:
The cost of a bus pass so that a single mother can get to and from work
Tutors or entrance exams for those seeking increased educational attainment as part of their progress toward self-sufficiency
Driving lessons, so that families can more readily access the things that they need
Security deposits, so that families can secure housing, as we know that a safe, stable place to live is a keystone of health and progress for low-income families.
Consider in making a donation by clicking here.
Goods
Our team of Navigators works with individuals and families to connect them with resources to stabilize their immediate needs, such as safe housing, affordable child care, transportation, health care and much more.
Navigation currently needs stability kits for families, such as:
Basic toiletries
Bus passes
Basic housing needs

Including cleaning materials, gift cards for groceries, etc.
For more information, please call 717-291-6102 or email: navigation@caplanc.org 
Teen ELECT (Education Leading to Employment and Career Training)
Teen Elect Maternity Closet
Maternity clothes
Infant clothes
Toddler clothes (2 to 4T)
Young women and men's clothes

Jeans, khakis, yoga pants, leggings, etc.

Diapers
Wipes
Kids shoes
Items can be dropped off for 'Teen ELECT' at J.P. McCaskey's Main Office: 445 N Reservoir St, Lancaster, PA 17602. For more information, please call 717-291-6102 or email: jleon@caplanc.org