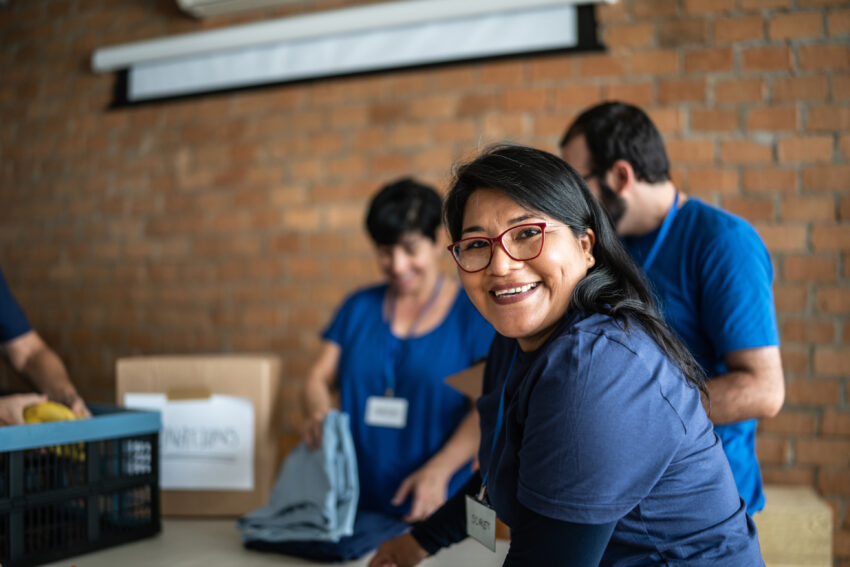 Volunteer with CAP!
CAP is always excited to welcome volunteers and has many areas where you can pitch in to help out. From an hour to a full day, we can work with you to help create an impactful community for others to live in. Contact
Mary Elizabeth Wagner at mwagner@caplanc.org or 717-299-7301 for more information.
Volunteering at CAP
Following is a summary of the volunteer opportunities available through Community Action Partnership of Lancaster County. Please note that most in-person CAP volunteer activities require three background clearances (Child Abuse, Criminal, and FBI). If you do not have the clearances, CAP will provide forms and related information about the application process.
---
One-Time Volunteer Opportunities
These opportunities are for anyone who is seeking a one-time volunteer opportunity! Fill out the form below and we'll add you to our list notifying you of any opportunity that may come up.
Crispus Attucks Community Center
The Crispus Attucks Community Center needs volunteers for the Food Bank every 2nd and 4th Wednesday of the month. Volunteers would be helping unload the truck, organize the food, and distribute food.
Domestic Violence Services
Did you know that DVS team members, interns, and direct services volunteers are required to complete a 45-Hour Domestic Violence Advocate training? Twenty (20) hours are completed online at your own pace, followed by 20 hours of live group training (in person or online). When these hours are completed each participant completes five (5) hours of hands-on observation with the DVS team. The training is offered two times each year, in the spring and the fall.
Children's Program, Activities, and Childcare – Provide in-person support with children living at the Safe House using an evidence-based, trauma-informed group curriculum
Volunteer Resident Assistant – Provide support, safety planning, and referrals to those reaching out for help and information via the 24-hour hotline and text line; assist the Safe House front desk by greeting visitors and assisting residents
Volunteer Counselor – Use a peer-support, trauma-informed model to help victims/survivors establish short- and long-term goals and safety planning; co-facilitate support groups for adults (can provide support at emergency Safe House or transitional housing Bridge House)
Volunteer Legal Advocate – Provide in-person support and information to victims/survivors attending Protection from Abuse hearings
Community Education & Health Fairs – Provide education activities in local schools and community-based organizations to teach the importance of healthy relationships; represent DVS at community-wide tabling events promoting services and answering questions about domestic abuse and our services
Fundraising & Advisory Council – Work with DVS Leadership Team to fulfill the Agency's fiscal and administrative growth goals
For more information or to schedule an interview, contact the Community Outreach & Volunteer Coordinator HERE.
Poverty Simulator Volunteer
Poverty Simulations are a series of role-playing scenarios that give participants the opportunity to learn about the realities of poverty and its impact on society as a whole. Participants adopt a new persona and family profile for the purpose of the exercise.
We're always looking for volunteers who would be interested in helping! The volunteer will hold a unique role within the simulation as a "vendor" in the community to support the families in accomplishing their goals on their journey. Simulations are usually about 2.5 hours long and are scheduled throughout the year all over Lancaster County and sometimes further. Transportation can be arranged.
Reach out to learn more about the specifics of this opportunity! Email kpadilla@caplanc.org.
Thrive to Five (formerly known as Head Start + CAP Child Care)
Work with children and teachers in the classroom throughout Lancaster County. Volunteer opportunities include activities such as reading out loud, helping around the classroom, and so much more depending on need.