MAKING A DIFFERENCE

34,274
VOLUNTEER HOURS DONATED

42,222
INDIVIDUALS SERVED IN 2022

13,139
HOUSEHOLDS APPROVED FOR UTILITY ASSISTANCE PROGRAMS

32+
SITES WITH 52 EARLY CHILDHOOD EDUCATION CLASSROOMS

1,817
DOMESTIC VIOLENCE VICTIMS AND SURVIVORS RECEIVED SERVICES FROM DVS

478,477
POUNDS OF FOOD DISTRIBUTED TO LOCAL PANTRIES
Featured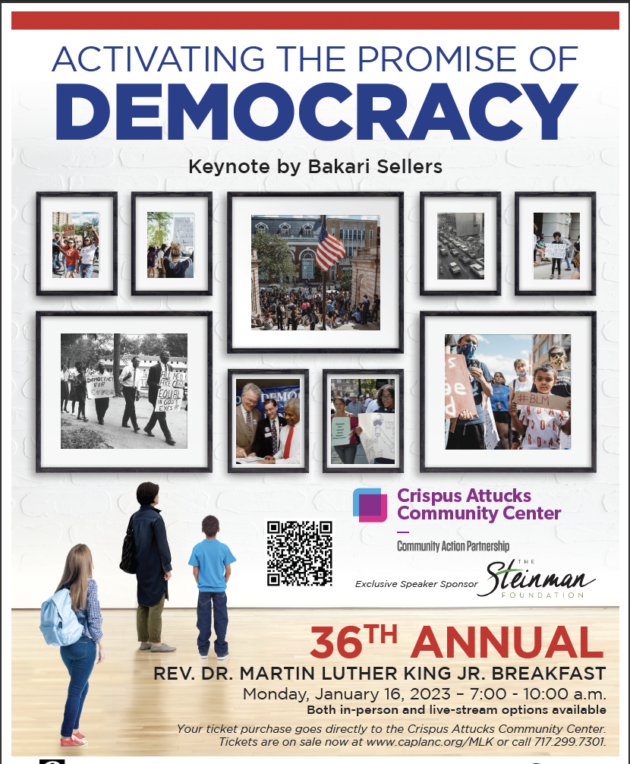 2024 MLK Breakfast Theme & Speaker Announced
---
Democracy is a core tenant upon which the United States was founded. And despite a founding document that declares that all men are created equal, the reality in our nation – from its founding to present day – is that inequality is rampant and shows up in every institution and system we encounter.
The annual Crispus Attucks Community Center MLK Breakfast is a time for the community to come together, to foster relationships, to dialogue around the life and legacy of Dr. King, and to confront issues of inequity and injustice. This event, the Center's largest fundraiser, annually raises $100,000 in critical funds for the Center, nearly 1/3 of the its yearly budget.
On Monday, Jan. 15, to celebrate the 36th annual MLK Breakfast, we will welcome Bakari Sellers to Lancaster for "Activating the Promise of Democracy."
2024 MLK Breakfast Theme & Speaker announced
We advance prosperity throughout Lancaster County by activating community, mobilizing resources and amplifying partnership to ensure everyone thrives.
Based on American Community Survey 5-year estimates, the poverty rate declined in Lancaster City from 20.6% in 2021 to 19.1% in 2022. This represents 1,933 fewer people living in poverty. In Lancaster County, the poverty rate declined from 9.1% in 2021 to 8.6% in 2022, which represents 10,675 fewer people living in poverty.
Join the Mission
Donate
---
Your partnership is essential to creating a community where everyone thrives. Thank you for your support!
Donate
Volunteer
---
CAP is continually searching for valued members of the community to give their time as a gift. Volunteer your time and services today!
Volunteer
Advocate
---
Tell your story! Help other individuals by sharing your CAP experience.
Take Action