2020 MLK Breakfast Theme & Speaker Announced
Contact: Kristy Aurand
Tel: 717.917.1722
Email:
kaurand@caplanc.org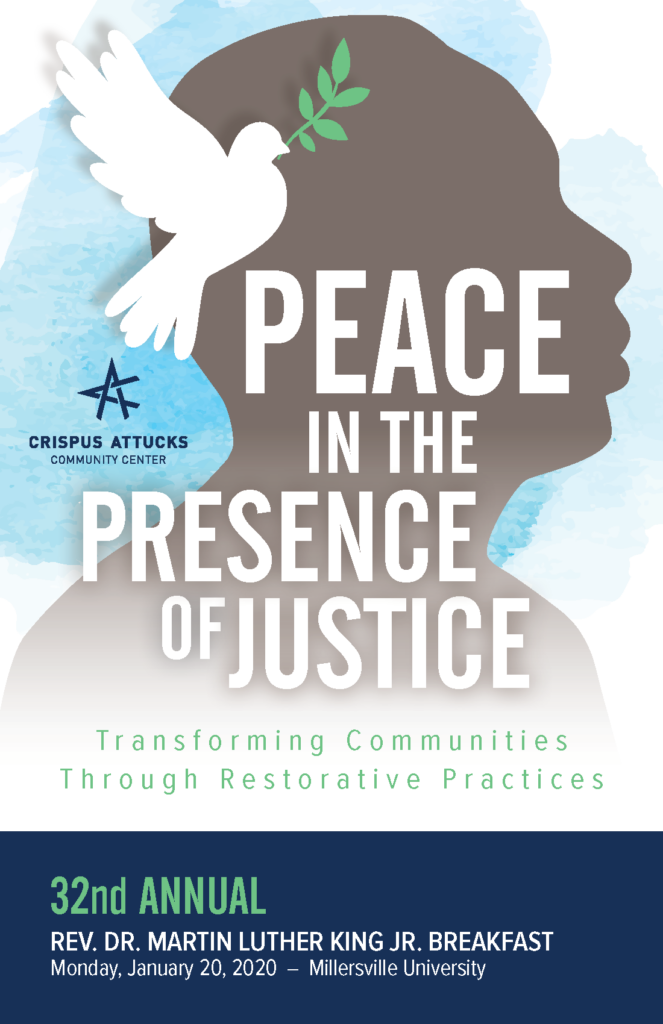 2020 MLK Breakfast Theme & Speaker Announced 
32nd Annual Event to be held January 20, 2020
Lancaster, Pa. – The Rev. Dr. Martin Luther King breakfast enjoys a long tradition in Lancaster County. Each year 700+ community leaders gather to honor Dr. King's legacy. The 32nd annual iteration of the event, presented by Crispus Attucks, a program of the Community Action Partnership, will be held Monday, Jan. 20, from 7-9 a.m. at Millersville University's Student Memorial Center. Registration begins at 6:30 a.m.
This year's theme – Peace in the Presence of Justice: Transforming Communities through Restorative Practices – will feature a keynote by Dr. Fania Davis. One of the Los Angeles Times "New Civil Rights Leaders of the 21st Century," Dr. Davis is a social justice advocate, a restorative justice practitioner and scholar and a former civil rights attorney. She grew up in Birmingham, Alabama, during the civil rights era and in 2005 founded Restorative Justice for Oakland Youth, a nonprofit dedicated to promoting institutional shifts toward restorative approaches.
Drs. Daniel and Judith Wubah, President and First Lady of Millersville University respectively, are serving as this year's honorary event chairs. The volunteer MLK Breakfast committee is made up of the following individuals:
Barbara Huesken, LNP Media Group – past chair
Dr. Damaris Rau, School District of Lancaster – past chair
Adam Aurand, School District of Lancaster
Kristy Aurand, Community Action Partnership
AJ Eckman, Lancaster Recreation Commission
Kimberly Fletcher, Community Action Partnership
Darryl Gordon, The High Companies
Dr. William Griscom, Thaddeus Stevens College of Technology
Dr. Leroy Hopkins, Millersville University
Howard Jones, Office of State Representative P. Michael Sturla
Dan Jurman, Community Action Partnership
Marquis Lupton, Crispus Attucks Community Center
Willonda McCloud, Brightside Opportunities Center
Brittany Mitchell, Community Action Partnership
Brian Nguyen, Community Action Partnership
Ismail Smith-Wade-El, Lancaster City Council
Lydia Yeager, Millersville University
The event will include a buffet breakfast, performances, and the presentation of the Essence of Humanity Award, sponsored by the High Foundation, and the Ruby Payne Cook Award. It will be emceed by Ron Martin, WGAL.
This event is Crispus Attucks' largest fundraiser of the year. Sponsorships are currently available and include a reception with Dr. Davis following the breakfast. For sponsorship information, please contact Kristy Aurand, kaurand@caplanc.org or 717.299.7388 ext.3032. Tickets will go on sale Monday, Nov. 4, online at www.caplanc.org/MLK or by contacting Brittany Mitchell, bmitchell@caplanc.org or 717.299.7388 ext. 3099.
About Crispus Attucks Community Center
Since 1927, the Crispus Attucks Community Center has been an anchor in Southeast Lancaster City. The organization has a proud history of providing educational and cultural programs to celebrate African American heritage, serving meals to individuals in need, and focusing on youth education and leadership development.  Crispus Attucks takes immense pride in its mission to improve the quality of life for youth and families in Lancaster by providing services that promote community prosperity, physical and mental health, and by offering programs and cultural events which preserve the African American heritage.
About Community Action Partnership
The Community Action Partnership is Lancaster County's largest anti-poverty organization, helping low income families move toward self-sufficiency. CAP's service profile interrupts inter-generational poverty with programs that support families and individuals at every age and place in life, in the areas of education and child development, health and nutrition, household stability and safety and empowerment. For more information, visit www.caplanc.org.
###