2022 MLK Breakfast Theme & Speaker Announced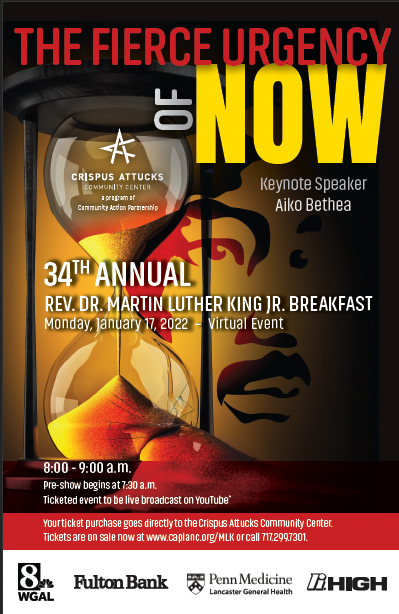 Contact: Kristy Aurand
Tel: 717.917.1722
Email: kaurand@caplanc.org 
 2022 MLK BREAKFAST THEME & SPEAKER ANNOUNCED
34th ANNUAL FUNDRAISER TO BE HELD AS A LIVE, VIRTUAL EVENT JANUARY 17, 2022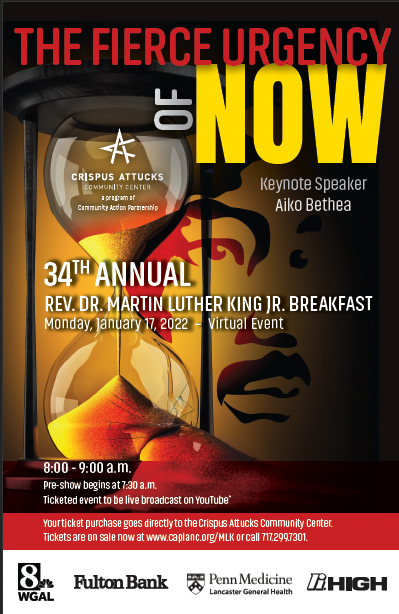 Lancaster, Pa. – For nearly 100 years, the Crispus Attucks Community Center (CACC) has stood in Lancaster as a pillar of African American history and legacy. 
The Center is named for Crispus Attucks, a Black man who was the first American killed in the Revolutionary War, of whom the Rev. Dr. Martin Luther King, Jr., said, "He is one of the most important figures in African American history, not for what he did for his own race but for what he did for all oppressed people everywhere. He is a reminder that the African American heritage is not only African but American and it is a heritage that begins with the beginning of America." 
Part of the Center's continued commitment to amplifying the Black voice is through its annual hosting of the Rev. Dr. Martin Luther King, Jr., Breakfast. This event, the Center's largest fundraiser, annually raises $100,000 in critical funds for the Center, nearly 1/3 of the its yearly budget. 
Out of an abundance of caution and concern regarding COVID-19 and its variants, the Center will once again be hosting a fully virtual event. The theme is "The Fierce Urgency of Now" in reference to Dr. King's 1963 "I Have a Dream" speech in which he said, "We have … come to this hallowed spot to remind America of the fierce urgency of now. This is no time to engage in the luxury of cooling off or to take the tranquilizing drug of gradualism. Now is the time to make real the promises of democracy. Now is the time to rise from the dark and desolate valley of segregation to the sunlit path of racial justice. Now is the time to lift our nation from the quicksands of racial injustice to the solid rock of brotherhood. Now is the time to make justice a reality for all of God's children."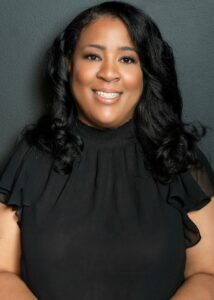 This virtual event will be live broadcast and will feature all the elements faithful attendees have come to expect, including energetic performances, inspirational awardees and an exceptional keynote by Aiko Bethea. 
Ms. Bethea is a leader, builder and connector, and has successfully navigated a dynamic career with roles spanning government, philanthropic, nonprofit and private sectors. After leading a legal team at the City of Atlanta under the direction of Stacey Abrams, Aiko served as Director of Compliance for the City of Atlanta and Deputy Director of a compliance department at the Bill & Melinda Gates Foundation. Most recently, she was Head of Diversity and Inclusion for Fred Hutchinson Cancer Research Center. The founder of RARE Coaching & Consulting, Aiko uses her gifts as an executive coach to guide leaders and teams of Fortune 100 companies and global nonprofit organizations in removing barriers to inclusion. And she has been recognized by Forbes as one of the top seven anti-racism educators for companies. 
Chip Cargas is this year's honorary event chair. 
The volunteer MLK Breakfast Committee is made up of the following individuals: 
Dr. Damaris Rau, School District of Lancaster – past chair

 

Adam Aurand, School District of Lancaster

 

Kristy Aurand, Community Action Partnership

 

AJ Eckman, Lancaster Recreation Commission

 

Kimberly Fletcher, HDC MidAtlantic

 

Darryl Gordon, The High Companies

 

Dr. Leroy Hopkins, Millersville University

 

Joshua Hunter, Community Action Partnership

 

Howard Jones, community volunteer

 

Willonda McCloud, Brightside Opportunities Center

 

Kareemah Mayer, Buchanan Ingersoll & Rooney PC

 

Brittany Mitchell, Community Action Partnership

 

Kristen Munro, The High Companies
Brian Nguyen, Community Action Partnership

 

Nakiyah Parris, WGAL-TV

 

Arelis Perez, Community Action Partnership

 

Vanessa Philbert, Community Action Partnership

 

Ismail Smith-Wade-El, Lancaster County Homeless Coalition/Lancaster City Council

 

Lydia Yeager, Millersville University

 
The virtual event will be emceed by Danielle Woods, WGAL-TV. Sponsorships are currently available and benefit the important work of the Center. For sponsorship information, please contact Kristy Aurand, kaurand@caplanc.org or 717.299.7388 ext.3032. Tickets are on sale now at www.caplanc.org/MLK or by contacting Brittany Mitchell, bmitchell@caplanc.org or 717.299.7388 ext. 3099. 
---
Sponsors
Exclusive Speaker 

Dream Makers




Champion

Legacy 
Franklin & Marshall College
Gateway Health
Highmark/Penn State Health
Marotta/Main Architects
Shumaker PDT
Thaddeus Stevens College of Technology
TriStarr
Justice
Electron Energy Corporation
The GIANT Company
McKonly & Asbury
School District of Lancaster
Tony & Sherry Chivinski
UGI
UPMC Health Plan
Advocate
Advanced Cooling Technologies
Anonymous CAP Board Member
Gibbel Kraybill & Hess LLP
North Group Consultants
Walz Group
Woodstream Corporation
Work Wisdom
About Crispus Attucks Community Center 
Since the late 1920s, the Crispus Attucks Community Center has been an anchor in Southeast Lancaster City. The Center takes immense pride in its mission to improve the quality of life for youth and families in Lancaster by providing services that promote community prosperity, physical and mental health, and by offering programs and cultural events which preserve and celebrate the African American heritage. For more information, visit caplanc.org/crispusattucks.
About Community Action Partnership 
The Community Action Partnership is Lancaster County's largest anti-poverty organization, helping income-constrained families move toward economic empowerment. CAP's service profile interrupts generational poverty with programs that support families and individuals at every age and place in life, in the areas of education and child development, health and nutrition, household stability and safety and empowerment. For more information, visit www.caplanc.org.