2023 MLK Breakfast Theme & Speaker Announced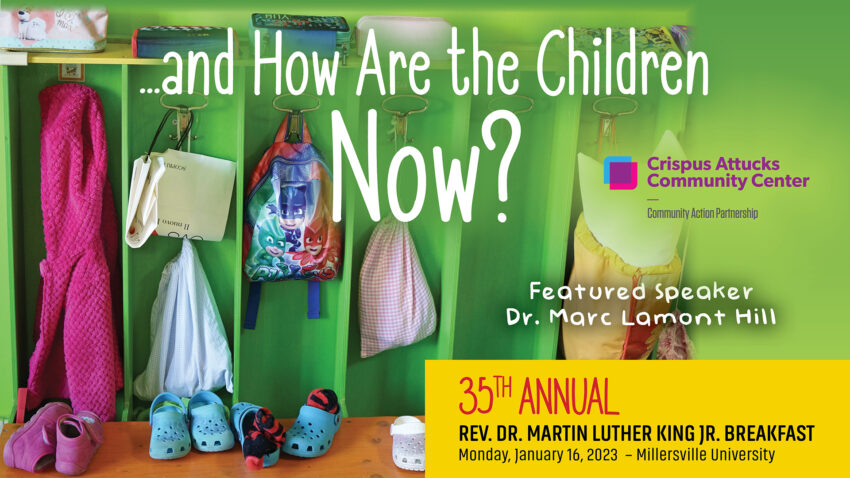 Contact: Kristy Aurand
Tel: 717.917.1722
Email: kaurand@caplanc.org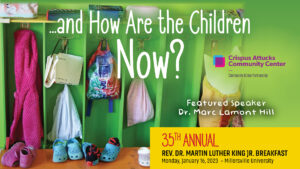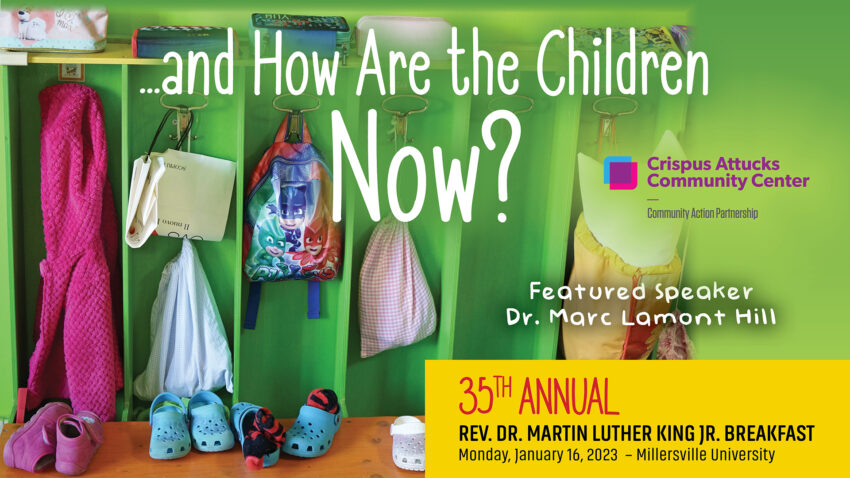 2023 MLK BREAKFAST THEME & SPEAKER ANNOUNCED
MARC LAMONT HILL TO RETURN TO LANCASTER FOR 35th ANNUAL EVENT
Lancaster, Pa. – Over the past five years, we have been faced with constant change. And so have our community's children. From school shootings and racism to simmering anger from parent groups and the endless challenges of the COVID-19 pandemic, the youngest among us are dealing with unprecedented struggles.
The annual Crispus Attucks Community Center MLK Breakfast is a time for the community to come together, to foster relationships, to dialogue around the life and legacy of Dr. King, and to confront issues of inequity and injustice. This event, the Center's largest fundraiser, annually raises $100,000 in critical funds for the Center, nearly 1/3 of the its yearly budget.
While we have been virtual for the past two years, for 2023 we are planning an in-person return to Millersville University with the addition of a livestream option. And we are excited to announce our 2023 featured speaker and theme. On Monday, Jan. 16, to celebrate the 35th annual MLK Breakfast, we will welcome Dr. Marc Lamont Hill back to Lancaster for "And How Are The Children … Now?" You may remember Dr. Hill from the 2018 MLK Breakfast. He is one of our most highly-regarded past speakers, and we feel his background and experience will be extremely impactful at this moment in time.
A Philadelphia native, Dr. Hill is currently the host of BET News and a political contributor for CNN. Dr. Hill is the recipient of numerous prestigious awards from the National Association of Black Journalists, GLAAD, and the International Academy of Digital Arts and Sciences. He is the Steve Charles Professor of Media, Cities, and Solutions at Temple University. Prior to that, he held positions at Columbia University and Morehouse College. A social justice activist and organizer, he is a founding board member of My5th, a non-profit organization devoted to educating youth about their legal rights and responsibilities. He is also a board member and organizer of the Philadelphia Student Union. Dr. Hill also works closely with the ACLU Drug Reform Project, focusing on drug informant policy.  He received his Ph.D. from the University of Pennsylvania, and he is the author or co-author of four books: the award-winning Beats, Rhymes, and Classroom Life: Hip-Hop Pedagogy and the Politics of Identity; The Classroom and the Cell: Conversations on Black life in America; the New York Times bestseller Nobody: Casualties of America's War on The Vulnerable from Ferguson to Flint and Beyond; and Gentrifier. He has also published two edited books: Media, Learning, and Sites of Possibility; and Schooling Hip-Hop: New Directions in Hip-Hop Based Education.
"And How Are The Children?" is a traditional greeting passed amongst the Masai in Kenya. The greeting acknowledges the high value of children and their wellbeing, and it acts as a barometer to how our community and society is fairing. The goal is to always be able to answer the greeting with "All the children are well." Given the increased challenges currently facing young people, Dr. Hill will give us a deeper look into how we can collectively work to build a better community and world, one where we can truly answer, "All the children are well."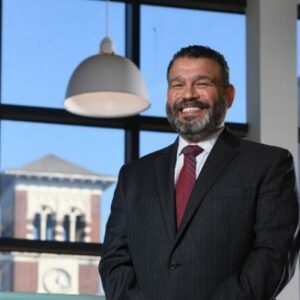 Pedro Rivera, Thaddeus Stevens College President, is this year's honorary event chair.
The volunteer MLK Breakfast Committee is made up of the following individuals:
Joshua Hunter, Community Action Partnership, Crispus Attucks Director
AJ Eckman, Lancaster Recreation Commission
Adam Aurand, School District of Lancaster
Arelis Perez, Community Action Partnership
Brian Nguyen, Community Action Partnership
Brittany Mitchell, Community Action Partnership
Darryl Gordon, The High Companies
Dominique Jordan, Tru2You
Evita Colon, Speak to My Soul/A Concrete Rose
Jodie Richardson, Magisterial District Judge
Kimberly Fletcher,  Community Member
Kristen Munro, The High Companies
Kristy Aurand, Community Action Partnership
Dr. Leroy Hopkins, Millersville University
Lydia Yeager, Millersville University
Nakiyah Parris, WGAL-TV
Vanessa Philbert, Community Action Partnership
Willonda McCloud, Brightside Opportunities Center
The event will be emceed by Jeremy Jenkins, WGAL-TV. Sponsorships are currently available and benefit the important work of the Center. For sponsorship information, please contact Kristy Aurand, kaurand@caplanc.org or 717.299.7388 ext.3032.
Tickets are on sale now at www.caplanc.org/MLK or by contacting Kristy Aurand. NEW FOR 2023! Because we believe that all supporters of the Crispus Attucks Community Center deserve access to the MLK Breakfast fundraiser, regardless of the amount they can give, we're offering three different ticket options for the 2023 MLK Breakfast, in the spirit of access and inclusion.
These ticket options include:
$75 in-person ticket: This traditionally-priced breakfast ticket gains you access to the in-person event at Millersville University on Monday, Jan. 16, 2023, and supports all the programs and services at the Crispus Attucks Community Center. All ticket revenue goes to the Center. Tables of 10 are also available for $750. https://one.bidpal.net/MLK/ticketing
$25 Livestream ticket: Because we received positive feedback on the convenience of the virtual   MLK Breakfast, we wanted to offer that remote accessibility to the community again this year – just with a simplified Livestream rather than a full virtual production. You will receive a link to the Livestream, which will be available only during the live event, and a link to the digital program. The entire ticket fee goes to the Center. https://one.bidpal.net/MLK/ticketing
Pay-what-you-will in-person ticket (suggested $25 minimum payment): This breakfast ticket gives you the option of selecting the payment most appropriate for your budget, whether it is lower or higher than the standard $75 ticket. This option gives you access to the in-person event at Millersville University on Monday, Jan. 16, 2023, and every dollar goes to the Center: https://one.bidpal.net/MLK/browse/featured
##
About Crispus Attucks Community Center
Since the late 1920s, the Crispus Attucks Community Center has been an anchor in Southeast Lancaster City. The Center takes immense pride in its mission to improve the quality of life for youth and families in Lancaster by providing services that promote community prosperity, physical and mental health, and by offering programs and cultural events which preserve and celebrate the African American heritage. The Center is named for Crispus Attucks, a Black man who was the first American killed in the Revolutionary War, of whom the Rev. Dr. Martin Luther King, Jr., said, "He is one of the most important figures in African American history, not for what he did for his own race but for what he did for all oppressed people everywhere. He is a reminder that the African American heritage is not only African but American and it is a heritage that begins with the beginning of America."
About Community Action Partnership
The Community Action Partnership is Lancaster County's largest anti-poverty organization, helping income-constrained families move toward economic empowerment. CAP's service profile interrupts generational poverty with programs that support families and individuals at every age and place in life, in the areas of education and child development, health and nutrition, household stability and safety and empowerment. For more information, visit www.caplanc.org.