2gen: Convening & Next Steps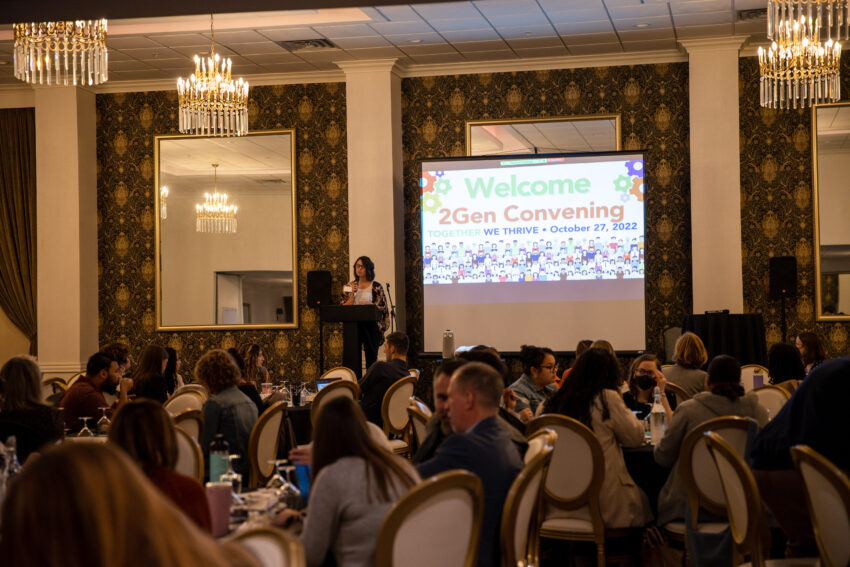 CAP hosted a 2Gen Convening in October 2022 to bring together national 2Gen experts with organizations from diverse sectors of Lancaster County. The purpose was to explore the Two- Generation (2Gen) Approach, its potential benefits to our community, and how this could impact how we work together towards our shared goals of thriving families and a thriving community.  
Through research, exemplar program models and personal stories of parents, we discovered that the 2Gen approach is not just a program model, but is also a mindset and a framework that is applicable at the organizational, local, state, and federal levels and can guide strategic planning and policy change. By adopting a whole family approach and by working together across service areas to provide aligned, simultaneous and integrated programs and opportunities, we can more effectively support families in unlocking pathways to their goals and dreams and a movement towards greater economic prosperity and thriving. 
During the 2Gen convening, we participated in a Six Hats activity to gather feedback about our feelings, thoughts, questions, dreams and big ideas related to the question of how we can use the 2Gen approach in Lancaster County to support families. We also invited participants to share their thoughts and questions through a post-event survey. 
Over 100 people from 42 Lancaster or State organizations attended the 2Gen convening. Of those that completed the post-event survey, 100% reported increased knowledge of 2Gen principles and practices, and 80% expressed interest in participating in follow-up conversations on 2Gen work in Lancaster.   
The results showed strong interest and enthusiasm in Lancaster for the 2Gen Approach, with people eager to participate in next steps in various ways. The feedback indicated a desire in the community for: 
Opportunities for others in their organizations to learn about the 2Gen Approach

 

Further exploration into the application of the 2Gen Approach to specific sectors and initiatives

 

Space for strategic planning, 2Gen program evaluation and deeper organizational exploration

 

Come together across organizations to improve efficiency and collaboration through the 2Gen Framework

 
Upon reflecting on this data and specific comments, CAP is committed to offering a few resources and opportunities for on-going learning and coordination of the 2Gen Approach in Lancaster. We recognize that no one organization can use the 2Gen Approach with families in isolation, but that it requires a whole community coming together, sharing, coordinating and coming up with creative collaboration to provide increased access to opportunities for families in Lancaster. On March 16, 2023, CAP hosted a follow-up gathering to share reflections from the 2Gen convening and our commitment to continued 2Gen learning and engagement in the community. This commitment is three-fold and includes: 
Professional Development Opportunities  
Bi-monthly Virtual 2Gen Lunch and Learns  

 

Poverty Simulations 

 

"Poverty and Its impact on Families" training 

 
Consulting  
Family-Centered Employer Assessments 

 

Support with 2Gen Data Collection methods 

 
County-wide Coordination  
2Gen Community of Practice for Direct Service Practitioners 

 

On-going Convening of local cross-sector leaders  

 

Direct Services 

 

CAP Resource Liaisons 

 

CAP Strength Coaches