2Gen: Economic justice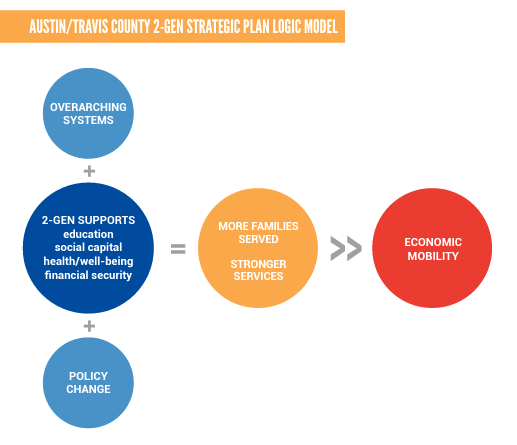 The 2Gen approach recognizes that achieving economic mobility for families requires listening to family voice to inform advocacy, system change, and service provision. It involves looking at systems from a whole family perspective, prioritizing equity, and utilizing research and evidence at all levels. This is a bipartisan approach to supporting healthy, thriving communities that is gaining momentum nationwide.
Research shows that this approach produces strong results and has a high return on investment, as the positive outcomes for both parents and children are greater when addressed through a 2Gen approach than when they are addressed separately. By integrating child and parent support and prioritizing coordination and cooperation between programs, the 2Gen approach maximizes community resources and achieves a multiplier effect across and within generations. 
The theory of change is based on the logic model from the Austin and Travis County United Way: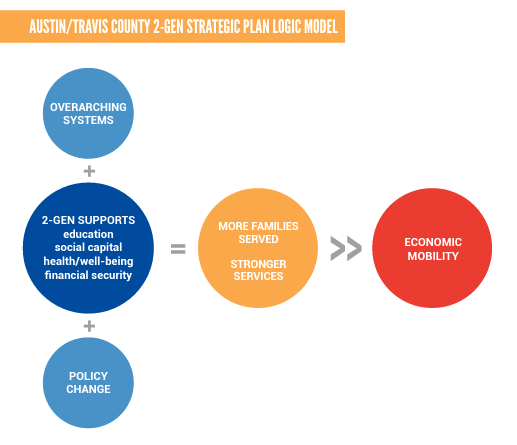 These initiatives aim to empower families by equipping parents with the skills and resources necessary for economic mobility, while also providing children with a solid foundation for their future. By bridging the gap between economic justice and the well-being of the whole family, the 2Gen approach creates a path towards sustainable change, breaking the cycle of intergenerational poverty and fostering a more equitable society.
For more information, contact Megan Heinly, Director of Economic Justice, mheinly@caplanc.org