31st Annual MLK Breakfast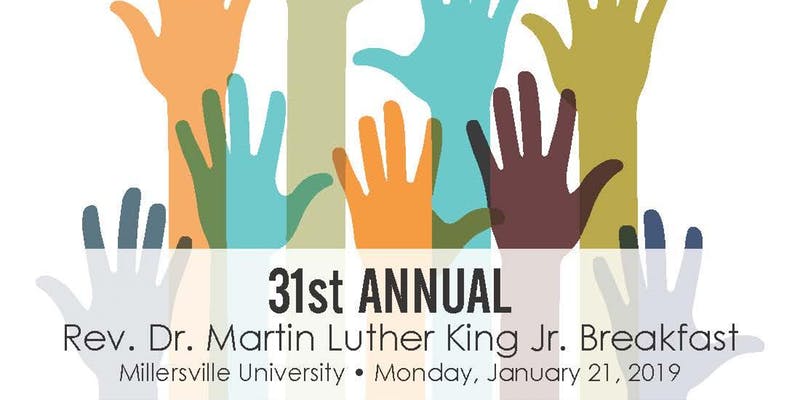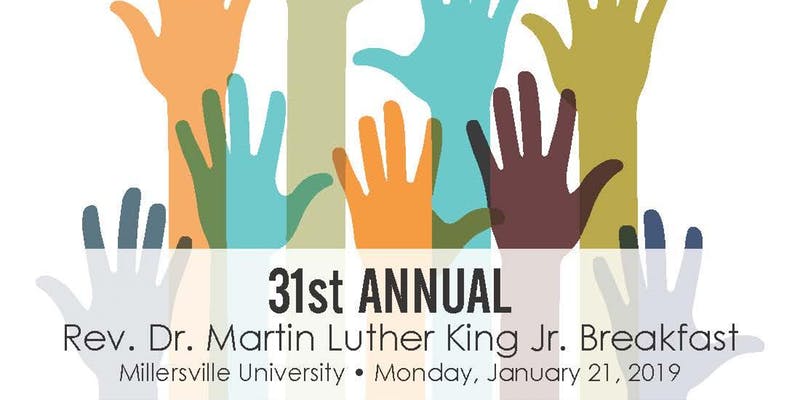 Crispus Attucks Community Center welcomes the entire community to the 31st Annual Rev. Dr. Martin Luther King, Jr. Breakfast.
For over thirty years, the Rev. Dr. Martin Luther King, Jr. Breakfast has brought our community together as a time to reflect and commit to being agents of change.
The breakfast will be held on the campus of Millersville University on January 21, 2019. We invite you to join us as we continue this important tradition
The proceeds of the MLK Breakfast will support the ongoing work of the Crispus Attucks Community Center. For over ninety years, Crispus Attucks has been a beacon of light that continues to serve members of the Lancaster community who are in need and to improve the quality of life for children, youth, and families.
Each year, the MLK Breakfast brings together over 700 people from the community, business, and government organizations, to remember the life and legacy of Dr. King, while honoring and celebrating the community spirit.
This year's theme, "Why We Can't Wait: Achieving Economic Equity," will be championed through a keynote address by John Hope Bryant, the founder of Operation HOPE, Inc., the largest non-profit financial inclusion organization in the country. In 2016, Bryant was named American Banker magazine's "Innovator of the Year," and he was previously named one of Time magazine's "50 Leaders for the Future." He is an entrepreneur, an author and a philanthropist. Please join us as we welcome him to Lancaster
6:30 am – 7:00 am Coffee and Conversation (networking)
7:00 am – 9:00 am Breakfast & Program
Ticket cost: $75
Table of 10: $750
Click here to purchase tickets  
or call 717-394-6604 x125
If you are unable to attend but still wish to make a donation, please click here 
or visit https://caplanc.org/donate/ and choose 'Crispus Attucks' from the drop-down Program menu.
Click here for directions to the Marauder Courts, Student Memorial Center, Millersville University, Millersville, PA
Directions
Marauder Courts, Student Memorial Center, Millersville University, Millersville, PA
Follow Route 30 to Route 741 to Route 999 towards Millersville.
Make left on to George Street.
Make right at second light onto Frederick Street.
Make left on to Shenks Lane.
Event entrance ahead on the left.
PARKING:  Parking is available in the surrounding lots.  Parking is free and open to the public on the day of the event; no placards needed.  Accessible parking and a drop off location are available along Shenks Lane by the event entrance.
GPS/Smartphone Address*:
*Event entrance is directly across the street from 81 Shenks Lane.
81 Shenks Lane Millersville, PA 17551

About John Hope Bryant
American Banker magazine 2016 "Innovator of the Year", Inc.'s "The World's 10 Top CEOs" (honorable mention), and one of Time magazine's "50 Leaders for the Future" named in 1994, John Hope Bryant is an American entrepreneur, author, philanthropist, and prominent thought leader on financial inclusion, economic empowerment and financial dignity.
Bryant is the founder, chairman, and chief executive officer of Operation HOPE, Inc. the largest not-for-profit and best-in-class provider of financial literacy, financial inclusion and economic empowerment tools and services in the United States for youth and adults; chairman and chief executive officer of Bryant Group Ventures and The Promise Homes Company, the largest for-profit minority-controlled owners of institutional-quality, single-family residential rental homes in the U.S., and co-founder of Global Dignity.
The last five U.S. presidents have recognized his work, and he has served as an advisor to the last three sitting U.S. presidents, from both political parties. He is responsible for financial literacy becoming the policy of the U.S. federal government. In January 2016 Bryant became the only private American citizen to inspire the renaming of a building on the White House campus when the U.S. Treasury Annex Building was renamed the Freedman's Bank Building. The Freedman's Banks', founded by President Abraham Lincoln, legacy has become the narrative of the work of Operation HOPE—to help all people in the 'Invisible Class' become fully integrated into our nation's economy. In April 2017, a historical marker, also inspired by Bryant, to honor the final flight of Dr. Martin Luther King, Jr. to Memphis on April 3, 1968, was installed at the Memphis International Airport 49 years to the day that Eastern Flight 381 arrived from Atlanta.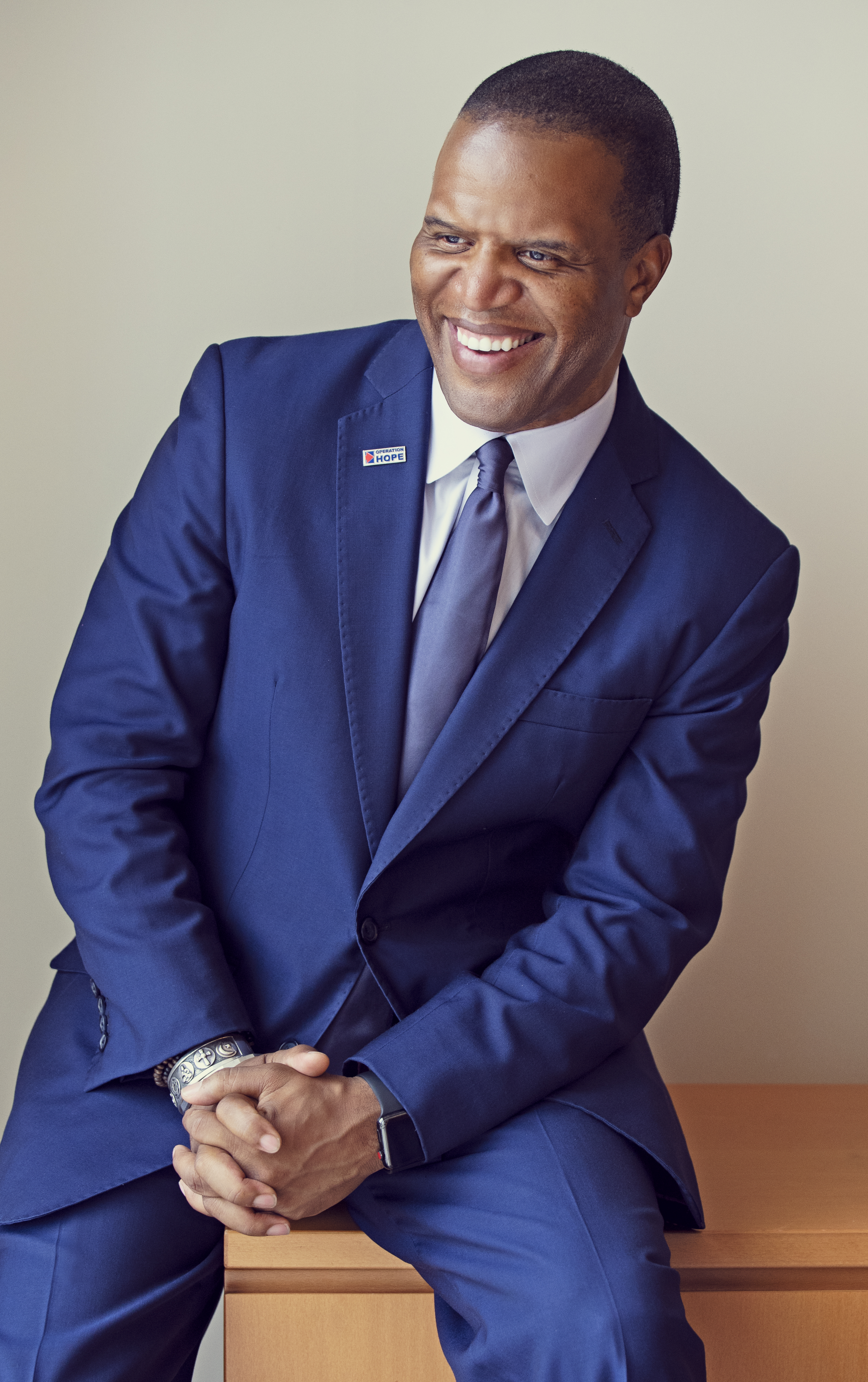 A member of the founding class of The Forum of Young Global Leaders, and founding member of Clinton Global Initiative, Bryant is a LinkedIn Influencer, contributor to Huffington Post, THRIVE Global and Black Enterprise, and a member of the World Economic Forum and OECD Expert Networks.
His Facebook Live "Silver Rights" Series has received 40+ million views, and serves as an engaging platform to foster essential discussion in the digital age around financial inclusion and social uplift. This series led directly to a Facebook sponsoring episodic streaming series entitled 'Delivering The Memo', inspired by Bryant's newest bestselling book, THE MEMO.
He has received hundreds of awards and citations for his work, including, Oprah Winfrey's Use Your Life Award, and the John Sherman Award for Excellence in Financial Education from the U.S. Treasury. Bryant recently received an honorable mention in Inc. magazine's "The World's 10 Top CEOs" article that spotlights global servant leaders as the visionaries behind some of the most successful organizations.
Bryant is the author of bestsellers; The Memo: Five Rules for Your Economic Liberation (Berrett-Koehler, September 2017), How the Poor Can Save Capitalism: Rebuilding the Path to the Middle Class (Berrett-Koehler, 2014), and LOVE LEADERSHIP: The New Way to Lead in a Fear-Based World (Jossey-Bass, 2009). He is one of the only bestselling authors on economics and business leadership in the world today who happens to also be African-American.
About Crispus Attucks Community Center
Crispus Attucks Community Center strives to improve the quality of life for youth and families in Lancaster by providing services that promote community prosperity, physical and mental health, and by offering programs and cultural events that preserve the African American heritage. To learn more about the history and about Crispus Attucks, visit: http://crispusattuckslanc.org/