A Healthier Holiday – Nutrition Education Program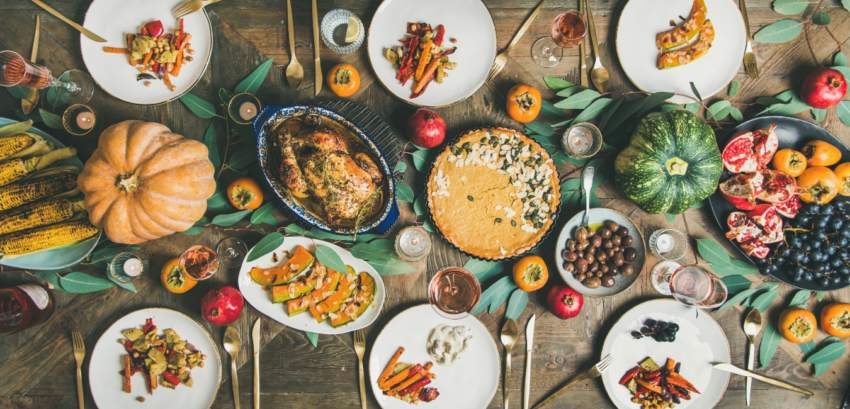 It's that time of the year again…the Holiday Season is near approaching which means casseroles, pies, and gravies galore!
As you celebrate, keep these healthy holiday tips in mind.
Click here to download newsletter (Eng) | Spanish
Include all food groups on your plate
Cut up fresh fruits & vegetables for an easy appetizer
Serve a variety of cheese or hummus with whole-grain crackers or pita bread
Roast mixed vegetables with olive oil for a healthy side dish
Serve lean meats such as turkey or chicken breast, roast beef, and ham as a main course
2. Make half your grains whole – try serving whole-grain options!
Whole grain rolls, biscuits, and breads are great examples that can come in whole-grain options
If you're making from scratch, use whole wheat flour for a roux, pie crusts, and desserts
Add oats to fresh-baked cookies
Steam brown rice or quinoa for an easy dish
3. Sweet Swaps – You don't have to get rid of your delicious desserts!
You can still enjoy your tasty desserts! Consider making these small swaps when baking:

Find recipes that use apple sauce or mashed bananas instead of sugar
Use spices such as cinnamon  and nutmeg to add flavor instead of adding extra sugar/salt
Try cooking with lower fat milk (2%, 1%, or skim) in place of whole milk
Add pecans, almonds, and walnuts to cookies/brownies for some healthy fats.
4. Eat SLOW, Walk FAST!
Eat your food slowly so you can enjoy every bite.
Put that phone away! Minimize distractions while eating and spend time with family & friends.
Try going on a group walk after your food digests. This will help get rid of that food coma!
5. Happy Thanksgiving!
Happy Thanksgiving from everyone here in the Nutrition Education Program and at the Community Action Partnership of Lancaster County! Share your Thanksgiving meal with us by tagging us on Facebook, Twitter, and Instagram or use #CAPLanc.
Recipe of the Month: Grandma's Stuffing
Ingredients
10 cups whole wheat bread cubes
1/3 cup water
1/2 cup onion (chopped)
1/2 cup celery (chopped)
1 teaspoon parsley, dried
1/4 teaspoon salt
1/4 teaspoon black pepper
1 1/2 cups milk
1 egg (lightly beaten)
2 apples (chopped or 1/4 cup raisins)
Directions
Preheat oven to 350 degrees.
Put cubes in a large bowl. Set aside.
Put water in medium saucepan. Add onion, celery, parsley, salt and pepper. Cook for 5 minutes. Do not drain. Pour over bread cubes.
Stir in milk and egg. Gently stir in apples, and raisins, if desired.
Spoon into a greased 2-quart baking dish.
Bake at 350 degrees for 1 hour.
Recipe Source: University of Wisconsin, Cooperative Extension Service, A Family Living Program
About CAP's Nutrition Education Program
The Nutrition Education Program (NEP), also known as SNAP-Ed, helps children and families understand the importance of eating fresh, healthy foods through education, cooking demonstrations and recipe tastings. NEP helps children and families understand the importance of eating fresh, healthy foods through education, cooking demonstrations and recipe tastings. Experiential learning is used to promote healthy lifestyle changes related to nutrition and physical activity. NEP offers children and adults the chance to try new foods that are healthy and budget friendly! For more information, visit
https://CAPLanc.org/NEP
This material was funded by the USDA's Supplemental Nutrition Assistance (Program of SNAP) and through the PA Department of Human Services (DHS). This institution is an equal opportunity provider.