Donor Spotlight – A Pin Against Racism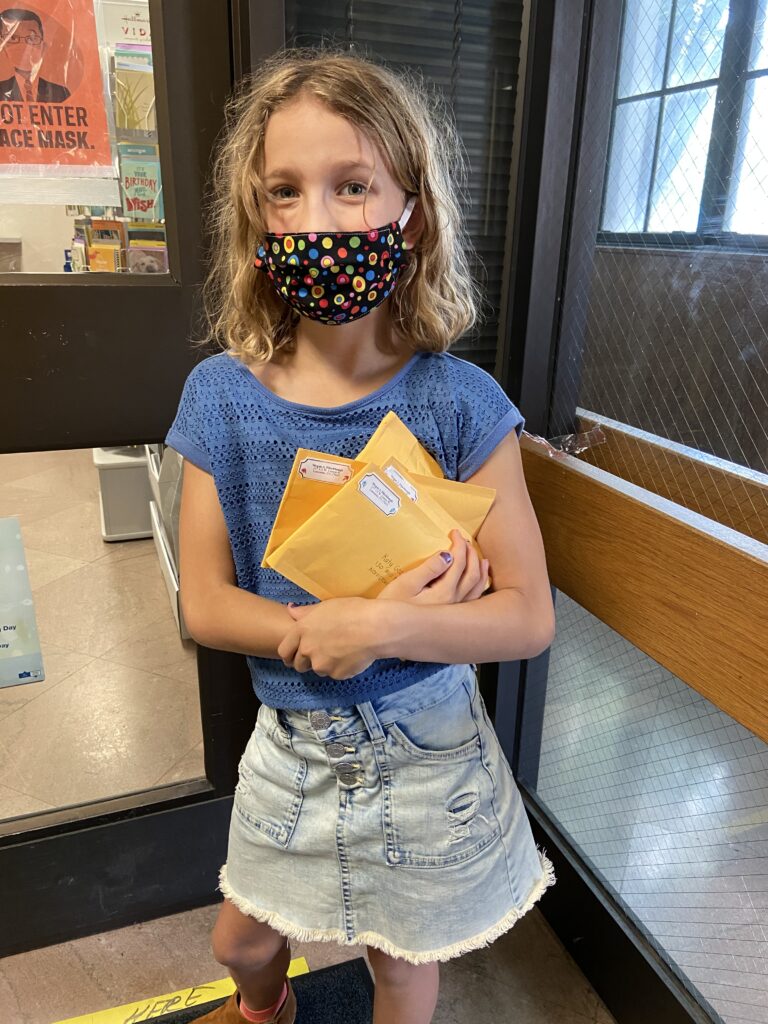 Meet Clara Flinchbaugh, one of CAP's youngest donors.
"When I was 5, I wrote, 'Let all people be loved. Let all be treated equally' in a notebook where I kept ideas. My parents liked it and had it made into a pin," says Clara.
Her mom remembers that Clara wrote this in February of 2017. It was the day President Trump issued an executive order effectively instituting an immediate ban on immigration from certain countries (the "Executive Order Protecting the Nation from Foreign Terrorist Entry into the United States"). The family spoke about it extensively and attended a peaceful protest in Penn Square in support of immigrants and refugees. They sold pins and magnets with Clara's sentiment and donated to a local organization that supports refugee students in Lancaster City.
This past summer, 8-year-old Clara saw the racism and racial inequality affecting people of color and wanted to support an organization impacting the Black community. With the help of her mom, Megan, Clara sold more pins and raised $290 for the Crispus Attucks Community Center, a program of the Community Action Partnership.
The CAP team is inspired by Clara's drive and asked her a couple questions to learn more about what drove her to be so generous.
##
What do you mean when you say it's important for all people to be loved and treated equally? Why is that important?
I mean that a lot of people such as immigrants and Black people are treated unfairly and need to be treated the same as others.
Can you give me an example of how you, or how your mom and dad, work to treat people equally and show love to people?
Here is something we all did: we all protested for Black rights. Also when there isn't enough for everybody I share.
How did you make your pins? How did you sell them?
My mom's friend made the pins and we sold them at different foundations and on social media.
What do you hope will happen with the money you donated?
I hope that the money will be used to help Black heritage be respected by all and support overall health services.
##
Clara proves that regardless of how old you are, you're never too young to be the change you wish to see in the world. She is the embodiment of CAP's values and vision in action.
From everyone at the Crispus Attucks Community Center and the Community Action Partnership, we thank you, Clara, for your advocacy and your generosity!
Interested in supporting the Crispus Attucks Community Center? Hold a fundraiser like Clara, or to make a donation click here.
##
About the Crispus Attucks Community Center 
The Crispus Attucks Community Center strives to improve the quality of life for youth and families in Lancaster by providing services that promote community prosperity, physical and mental health; and by offering programs and cultural events which preserve the African American heritage. Crispus Attucks sponsors community-wide cultural events, including Lancaster's Annual Rev. Dr. Martin Luther King Jr. Breakfast, Black History Month events, and the Juneteenth Celebration. The Center is also home base for the African American Veterans Project and the African American Historical Society. For more info, visit: CAPLanc.org/CrispusAttucks
About the Community Action Partnership (CAP) of Lancaster County 
The Community Action Partnership is Lancaster County's largest anti-poverty organization, helping low-income families move toward financial empowerment. CAP's service profile interrupts generational poverty with programs that support families and individuals at every age and place in life, in the areas of education and child development, health and nutrition, household stability and safety and empowerment. For more information, visit www.caplanc.org.