Education & Child Development 2020 Impact Award – Carrie Rabe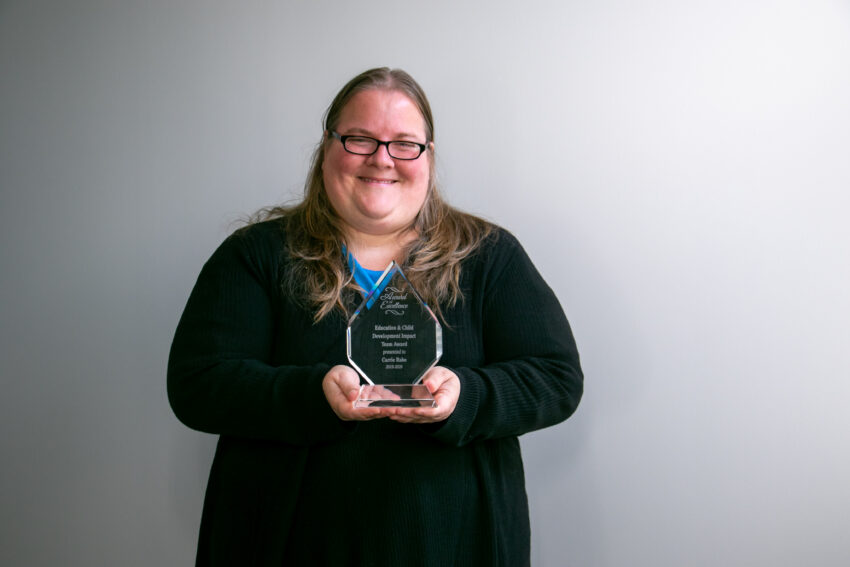 The Community Action Partnership (CAP) of Lancaster County Education & Child Development programs provides comprehensive birth-to-5 programming in all Lancaster County school districts.
Our services prioritize children and families experiencing vulnerable conditions through differentiated programming that support families towards economic prosperity. CAP provides home-based and center-based services with extended day options. Our services align with a 2 generational approach of supporting the caregiver and child with escaping poverty.
The work that we do wouldn't and couldn't be possible without our hardworking and dedicated staff. 
The Education & Child Development Impact Award is given to someone who has exemplified CAP values and has gone above and beyond for the program, children, and families. 
This year, we're proud to announce Carrie Rabe, Family Community Engagement Liaison as this year's recipient! 
The Impact Award winner, Carrie Rabe, works as the Family Community Engagement Liaison as Thrive to Five's (formerly known as Head Start) direct family contact. They assist and connect families with many services and resources that they may need. They are also in contact with the families of all Head Start students, as each Head Start family is connected with their own Family Community Engagement Liaison. Congratulations Carrie on your award and thank you for all of your hard work!
Carrie did the following that was above and beyond:
Assisting with the DHS inspection for Columbia

Regularly delivered diapers/ wipes/food  to our families during COVID

Sometimes assisted with prepping of meals on Thursdays

Consistently meets deadlines and is responsible for 3 sites (Donegal, Etown, and Mt. Joy)

Volunteered to help with the Grace Early Learning Center and worked in classrooms

Helped Mindy plan and organize the Summer Fun Day events.
"I can add that what I feel like I hear from staff and others is how Carrie continuously shows CAP values in every interaction and task that she completes," says Jamie Reichenbach, Coordinator of Early Learning Services, "she is always willing to lend a helping hand to clients, staff and other departments even to make our organization better. In my opinion, my words, Carrie is a beautiful soul and is truly a servant leader in her daily work. 
Thank you for all that you do Carrie!
To learn more about the Thrive to Five (formerly known as Head Start) program, click here.
About the Community Action Partnership of Lancaster County
The Community Action Partnership is Lancaster County's largest anti-poverty organization, helping low-income families move toward self-sufficiency. CAP's service profile interrupts inter-generational poverty with programs that support families and individuals at every age and place in life, in the areas of education and child development, health and nutrition, household stability and safety and empowerment. For more information, visit https://caplanc.org.