Lancaster County 2040 Metropolitan Transportation Plan (MTP) | "connects2040"
The Lancaster MPO is updating its long-range transportation plan. The plan, known as the Lancaster County 2040 Metropolitan Transportation Plan (MTP) or "connects2040" for short, will serve as a blueprint for the county's decision-making on transportation services and projects. It will also include a long-term spending plan for addressing critical infrastructure needs over the next 25 years. When completed, the MTP will also serve as the transportation implementation element of the Lancaster County Comprehensive Plan. That plan – known as "places2040" – outlines specific priorities to help the County proactively plan for the future.
We invite the public to participate in an interactive online survey at:
Complete this survey by Sunday, February 9, 2020 to help us develop a shared vision for transportation in Lancaster County!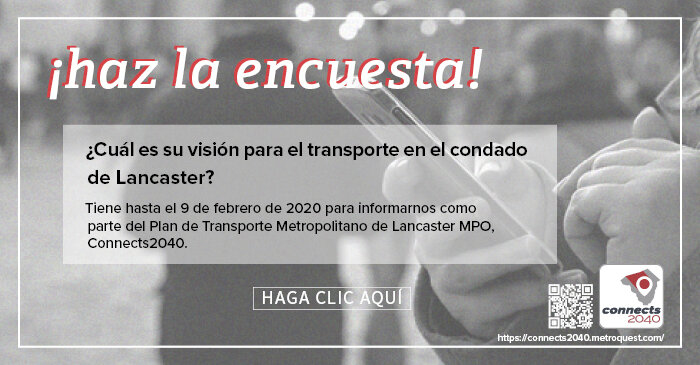 This survey can be made available in alternative languages upon request. For a translated survey, please contact Lauri Ahlskog at (717) 299-8333 or AhlskogL@co.lancaster.pa.us. You may also mail a written request to the following address: Lancaster County Planning Commission, Title VI Compliance Coordinator, 150 N. Queen Street Suite 320, Lancaster, PA 17603.
About the Lancaster County Transportation Coordinating Committee (LCTCC)
LCTCC is the Metropolitan Planning Organization (MPO) for Lancaster County and each LCPC Member holds a seat on its board of 22 members. A Metropolitan Planning Organization (MPO) is a federally required transportation planning body comprised of elected and appointed officials representing local, state, and federal governments or agencies having interest or responsibility in transportation planning and programming.
An MPO is responsible for the development of a Long Range Transportation Plan (LRTP), the Transportation Improvement Program (TIP), and a Unified Planning Work Program (UPWP) for its metropolitan planning area. The adoption of these documents is a prerequisite for the receipt of both federal transit and federal highway funding.