October is Domestic Violence Awareness Month

Contact: Christine A. Gilfillan, Director, Domestic Violence Services
Tel: 717.299.9677 x3110 October 2, 2020
Email: cgilfillan@caplanc.org
FOR IMMEDIATE RELEASE
OCTOBER IS DOMESTIC VIOLENCE AWARENESS MONTH
VIRTUAL EVENTS PLANNED TO RAISE AWARENESS
Lancaster, Pa. – During October, which is nationally-recognized as Domestic Violence Awareness Month, Domestic Violence Services of Lancaster (DVS) is challenging the community to learn more about how they can help eradicate domestic violence.
Last year, DVS, a program of Community Action Partnership, served 1,451 local victims of domestic violence. According to the Centers for Disease Control, 1 in 4 women and 1 in 9 men have experienced contact sexual violence, physical violence, and/or stalking by an intimate partner in their lifetime.
"People want to do something but don't know what to do – or they believe that their actions can't make a difference," DVS Director Christine Gilfillan said. "Imagine if every individual in Lancaster County committed to doing just one thing to stop domestic violence – – we would experience profound social transformation."
DVS will hold a series of events in October, which will all be virtual due to the ongoing COVID-19 public health crisis. All events will be streamed live on Facebook and YouTube.
A full calendar of events and additional information is available at: caplanc.org/dvam.
Throughout the Month
DVAM Coffee Sleeve Campaign: Twelve coffee shops and cafes around the county are partnering with us to distribute #1Thing coffee sleeves to raise awareness about domestic violence, and encourage the public to think of "one thing" they can do to support victims and survivors.
DVAM Yard Signs: It's yard sign season! There are two designs from which to choose: Home is not safe for everyone or Together we can end domestic violence. Signs are in English on one side and Spanish on the other and are available ordered at caplanc.org/dvam. There is no cost, however, a suggested donation of $25 will help to offset printing costs.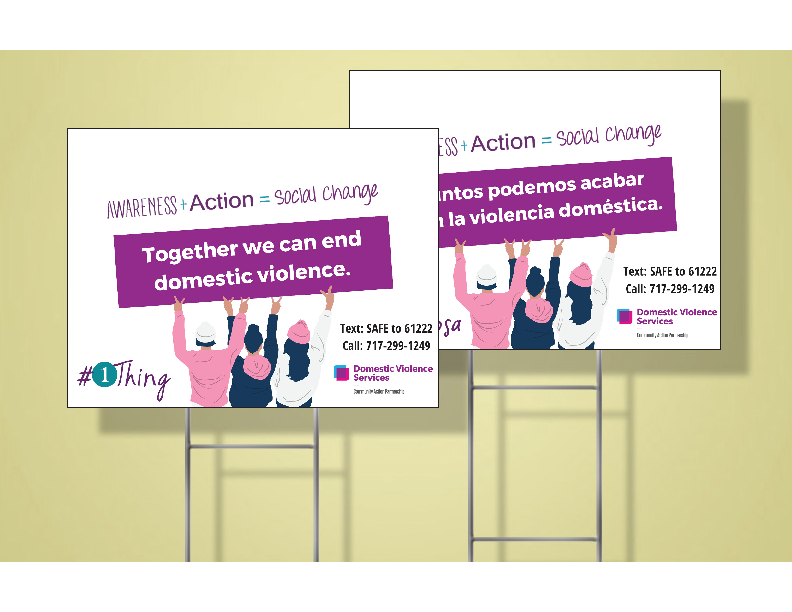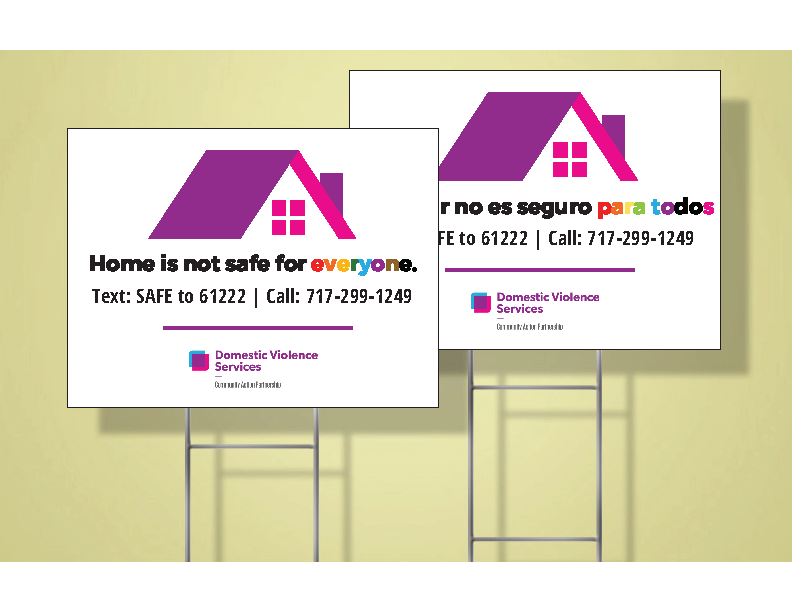 Friday, Oct. 2, 7 p.m. – First Friday Multi-Media Benefit Concert
We hosted a virtual benefit concert. Click the video above to watch!
Wednesday, Oct. 7, 7 p.m. – Lancaster County Silent Witness Project Virtual Vigil
We honor lives lost due to domestic violence during October with the Silent Witness Project, a collaboration between DVS, the Lancaster County D.A.'s office, and Penn Medicine/LGH. Each life-sized figure bears the story of an individual whose life was cut short due to domestic violence. Usually held in person at various public venues, the Silent Witness Project will be displayed virtually throughout the month.
Thursday, Oct. 15, 7 p.m. – Economic Advocacy & Empowerment Forum
99% of victims of domestic violence experience financial abuse and marginalization. DVS is shining the light on this important issue, along with a new Economic Empowerment Program at DVS designed to help survivors regain financial stability and move forward. The panel will include local experts and focus on economic empowerment.
Sunday, Oct. 18, 1-4 p.m. in Musser Park – Bakers Uprising Bake Sale to Benefit DVS
Sixteen bakers from Bakers Uprising, a local group of bakers committed to social justice, will be offering their goodies and donating the proceeds to DVS.
Wednesday, Oct. 28, 7 p.m. – Speaking Witness: Stories of Domestic Violence Survivors
Survivors will share their empowering stories of breaking free from domestic violence during this virtual story slam.
A full calendar of events and additional information is available at: caplanc.org/dvam.
##
About Domestic Violence Services of Lancaster County
DVS is a catalyst to eliminate domestic violence through direct service, advocacy, and social change. DVS offers 24/7 emergency shelter, long-term supportive apartment-style living, a children's program, gratis legal counseling, and 24-hour emergency hotlines on phone and text. DVS hosts regular community education and prevention sessions for many agencies, schools and faith-based organizations. For more information, visit caplanc.org/DVS.
About the Community Action Partnership
The Community Action Partnership is Lancaster County's largest anti-poverty organization, helping low-income families move toward self-sufficiency. CAP's service profile interrupts inter-generational poverty with programs that support families and individuals at every age and place in life, in the areas of education and child development, health and nutrition, household stability and safety and empowerment. For more information, visit www.caplanc.org.