Parents as Teachers – Maddie's Story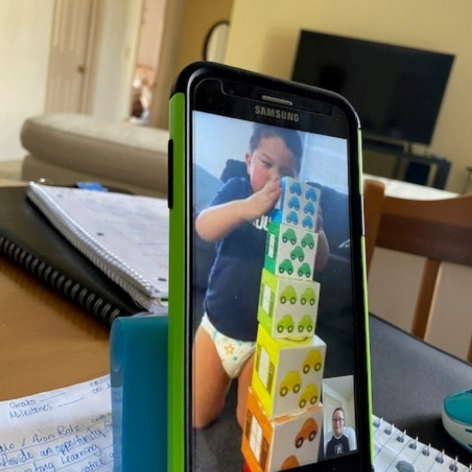 Maddie's* Story:  A special needs child still needs to develop during Covid-19.  Learn how she manages from home, without in-person supports.
Maddie has been in the Community Action Partnership (CAP) of Lancaster County's Parents As Teachers Program for almost two years.  Many families are facing the challenge of teaching their children at home during this pandemic, but imagine facing the challenge at home while raising a special needs child. Special needs children have a countless variety of factors impacting the stability of home life and development.
Maddie's CAP Family Educator, Mithson Cardona explains, "Likemany families struggling with the pandemic, she has to deal with family members in the hospital, shortness of supplies at home and off course children out of school."
With the support of CAP, Maddie has managed to keep routines at home to have a positive impact on her child with special needs. She has kept all virtual visits and when doing the activities with her son, she tries to modify them so he is successfully doing them. She also utilizes her resources in her home and her community, to improve his gross/fine motor skill, social ability, and cognitive skills.
Her son can now go up and down the slide stairs happily, sit to eat during meal times, look at her face as she talks with him, wave hi to others, play with his shadow and build a tower with blocks from big to small.  Maddie is proud of all the small steps that she has helped him reach.
Maddie shares when asked about her experience with CAP, "Con la ayuda de Dios y todos mi hijo va ha salir adelante." / "With the help of God and everyone (at CAP), my son will be reaching his goals."
The road to long-term, self-sufficiency success is a lonely one for many families out there like Maddies.  Today, we honor her strength and ability to build a connection between her role as a parent, and how her input can have a positive impact on the life of her son.
*Name changed for privacy. 
About the Community Action Partnership (CAP) of Lancaster County The Community Action Partnership is Lancaster County's largest anti-poverty organization, helping low-income families move toward self-sufficiency. CAP's service profile interrupts inter-generational poverty with programs that support families and individuals at every age and place in life, in the areas of education and child development, health and nutrition, household stability and safety and empowerment. For more information, visit
https://caplanc.org
​
.
About the Community Action Partnership (CAP) of Lancaster County's Parents as Teachers
Parents as Teachers (PAT) is an evidence-based home visiting model that promotes the optimal early learning and health of children by supporting and engaging parents and caregivers. The program provides services to families with children from prenatal through kindergarten entry. Families receive personal home visits, child screenings, group connections, parenting workshops and referrals to community resources. This program is free and accepting new families in Lancaster County with children prenatal to three years old. For more information and enrollment visit:
https://CAPLanc.org/PAT