Stalking Awareness Month
January is National Stalking Awareness Month (NSAM). Though millions of men and women are stalked every year in the United States, the crime of stalking is often misunderstood, minimized and/or ignored.
Stalking is a pattern of behavior directed at a specific person that causes fear. Many stalking victims experience being followed, approached and/or threatened – including through technology. It is a terrifying and psychologically harmful crime in its own right as well as a predictor of serious violence. In 85% of cases where an intimate partner (i.e., boyfriend or husband) attempted to murder his partner, stalking preceded the attack.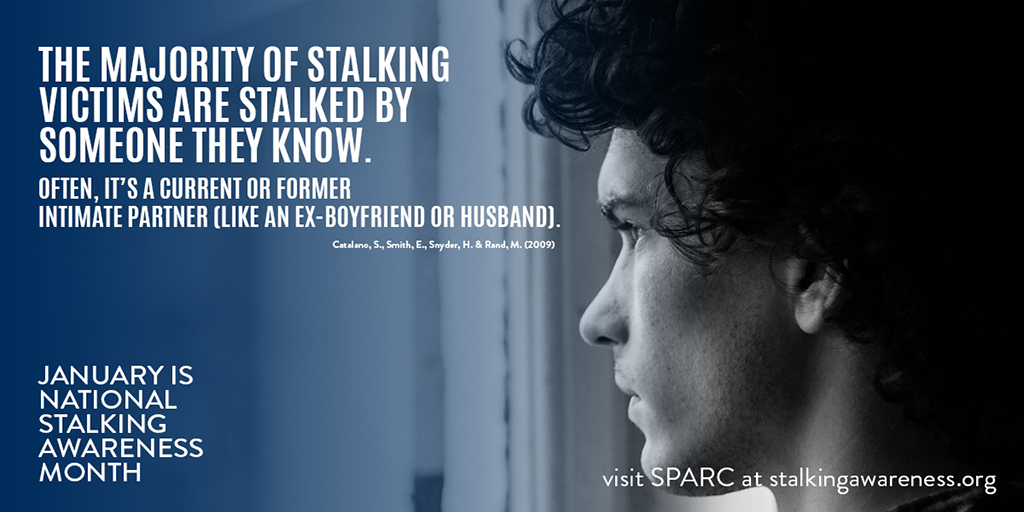 Stalking often predicts and/or co-occurs with sexual violence. Stalkers may threaten sexual assault, convince someone else to commit assault and/or actually assault their victims. Nearly 1 in 3 women who were stalked by an intimate partner were also sexually assaulted by that partner.
It can be an extension of power and control in an abusive relationship, and many abusers stalk their partners both during and after the relationship has ended. Intimate partner stalkers are the most dangerous stalkers: they are more likely to approach victims, escalate behaviors, re-offend and assault their victims. Stalking is a terrifying and psychologically harmful crime in its own right as well as a predictor of lethality: in 85% of cases where an intimate partner attempted to murder his partner, stalking preceded the attack.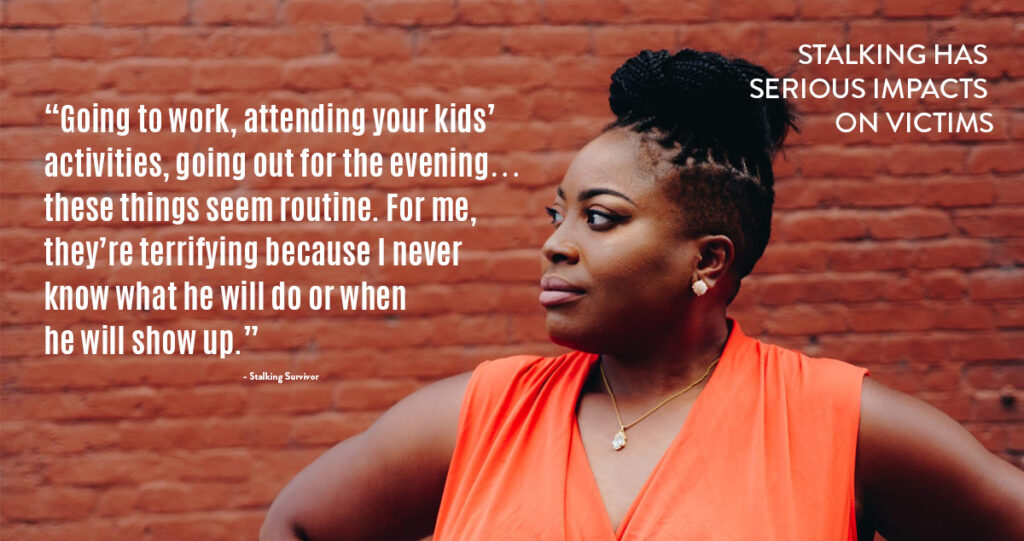 Stalking & Separation
Stalking does not just occur when a person leaves the relationship. Victims are stalked while still in the relationship with a controlling partner, making separation very difficult. Due to many safety
concerns, stalking victims find that they will sometimes need to stay with the controlling, stalking partner to prevent further harm. Stalking after separation may increase the risk of violence.
Victims stalked by violent partners report more separation attempts than partner violence victims who were not stalked.
If You Are Being Stalked
People who stalk can be very dangerous. Stalkers can threaten, attack, sexually assault, or even kill their victims. Unfortunately, there is no single psychological or behavioral profile that can predict what stalkers will do. Stalkers' behaviors can escalate from more indirect ways of making contact (i.e. like phone calls or texts) to more direct contact  (i.e.delivering gifts or showing up where you are at).
Many victims struggle with how to respond to their stalkers. Some victims try reasoning with their stalkers to placate them, hoping that "being nice" will make stalkers stop their behavior. Many victims minimize their experiences of being stalked, telling themselves "it's not that bad." Still others may confront or threaten the stalker or try to "fight back."
While victims cannot control the stalking behavior, they should feel empowered to take steps to keep themselves, their families, and their loved ones safe.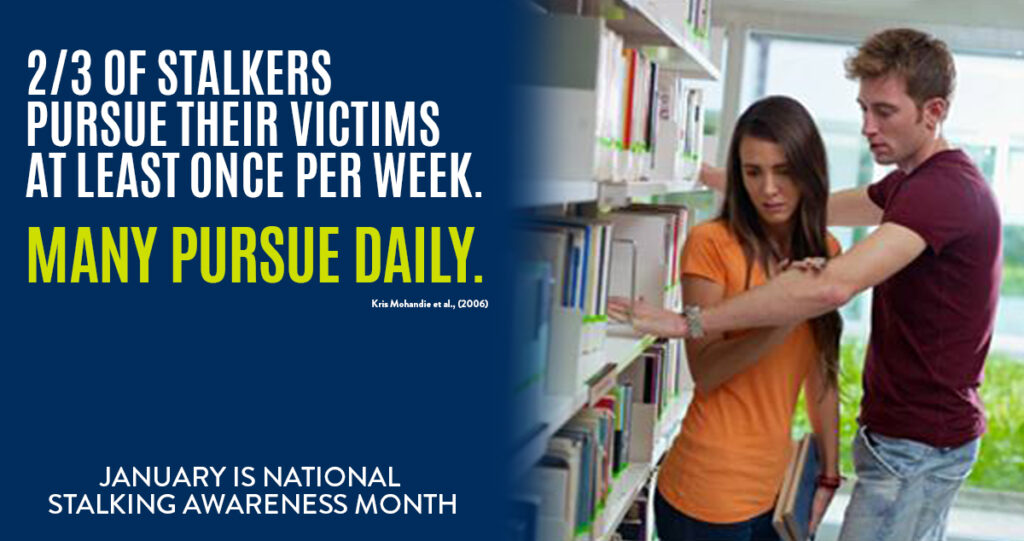 Tips to Consider
Trust your instincts. Victims of stalking often feel pressured by friends or family to downplay the stalker's behavior, but stalking poses a real threat of harm. Your safety is paramount.
Call the police if you feel you are in any immediate danger. Explain why the stalker's actions are causing you to fear.
Keep a record or log of each contact with the stalker. You can use this log as an example. Be sure to also document any police reports.
Stalkers often use technology to contact their victims. Save all emails, text messages, photos, and postings on social networking sites as evidence of the stalking behavior. You may also want to consider how to use your technology and your devices in a safer manner. For more information, please visit the National Network to End Domestic Violence Safety Net Project's Tech Safety Site.
Get connected with a local victim service provider who can assist you in exploring your options as well as discuss safety planning.
We all have a role to play in identifying stalking and supporting victims and survivors. Learn more about stalking and how you can help stop it at: the Stalking, Prevention, Awareness Resource Center: www.stalkingawareness.org or Break the Cycle (with specific resources for teens): www.breakthecycle.org. For Lancaster County resources and support for victims, survivors, loved ones and children: https://caplanc.org/our-programs/safety-empowerment/domestic-violence-shelter/
Lancaster County Domestic Violence Services provides free, confidential services and is committed to serving all victims of domestic violence and their dependent children. Facilities are handicapped-accessible. Call the 24-hour Hotline at 717.299.1249 for immediate help with an emergency or for more information about shelter services.