The Steinman Foundation & Lancaster County STEM Alliance: All Star Code!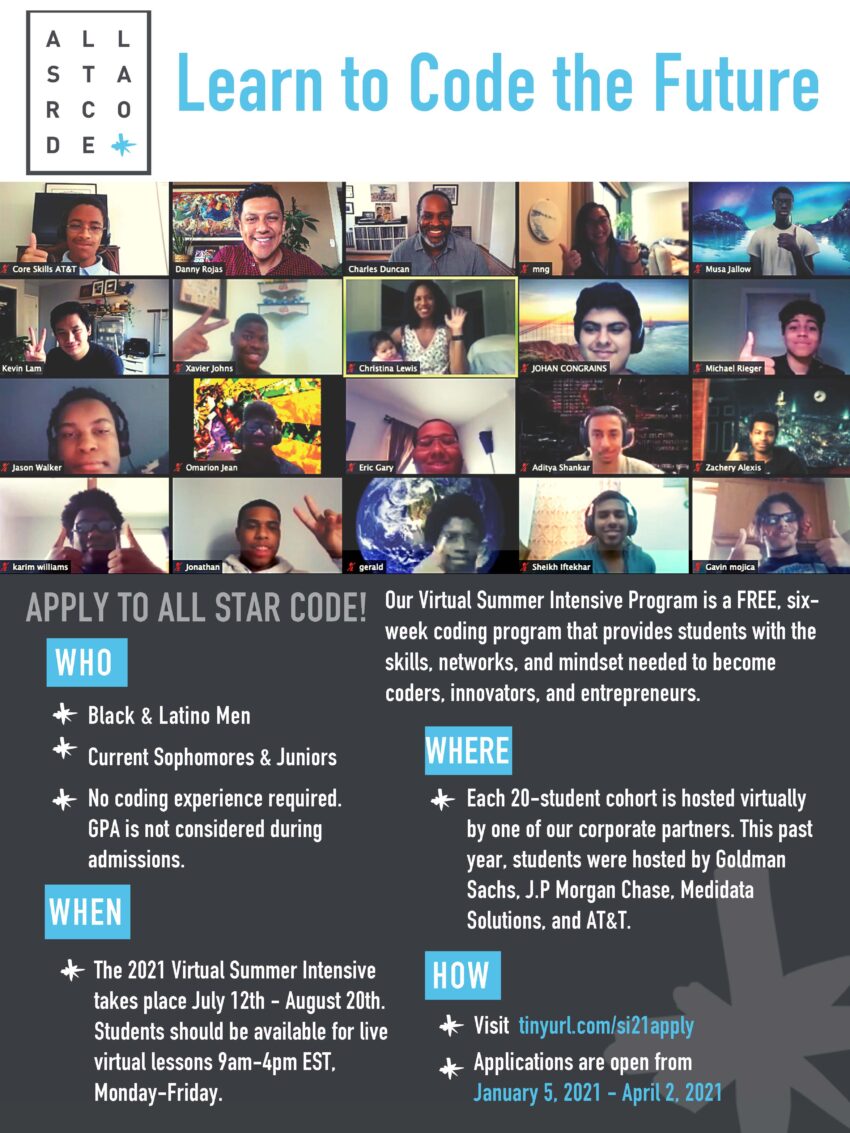 The Steinman Foundation & Lancaster County STEM Alliance are excited to announce that a new program is coming to Lancaster:
All Star Code!
All-Star Code creates economic opportunity by developing a new generation of boys & young men of color with an entrepreneurial mindset who have the tools they need to succeed in a technological world.
Lancaster County high school students are invited to apply to participate in the first Lancaster All-Star Code Summer Intensive program! This FREE, 6-week program will provide young men with mentorship engagement, career & industry exploration, and a crash-course in coding, including both web development skills & essential core skills.
The Summer Intensive will run from July 12- August 20th, Monday-Friday from 9:00 am – 4:00 pm. Sessions will be broken up with hands-on learning, interactive content, virtual site visits, company tours, and more.
Hear more about students' experiences: 
For the 2021 Summer Intensive, there are twenty slots available. Students' applications will be evaluated by the All-Star Code team. All students who are accepted into the program will receive a laptop computer and access to a Wi-Fi hotspot.
The Steinman Foundation will be providing a stipend to all Lancaster County students who participate in the Summer Intensive program. Students will receive ½ of their stipend following the completion of week 3, and the final portion following the conclusion of the program. But the program doesn't just end when the Summer Intensive wraps up! Ongoing support from the All Star Code team continued access to program content & mentors and future employment opportunities as Summer Intensive classroom assistants are all part of becoming an All Star Code alumni. This is truly a program focused on student success.
For more information and to apply: https://allstarcodeorg.github.io/apply/ 
Resources:
About the Steinman Foundation 
The Steinman Foundation, in carrying forward the vision of James Hale Steinman and John Frederick Steinman, seeks to improve the quality of life in the communities that comprise Lancaster County, Pennsylvania. For more information, visit: https://steinmanfoundation.org/
About the Lancaster County STEM Alliance 
The Lancaster County STEM Alliance is a group of dedicated thought leaders who share the following vision for the future of Lancaster County: As a hub for STEM literacy and experiential learning, Lancaster County attracts and retain visionary job creators, inspire learners of all ages to achieve academic excellence, and engage all its citizenry in building a prosperous future. This group has identified five strategic priorities in support of this vision: Increase community awareness of, and engagement in, STEM learning, offer rational career exploration activities for all ages, integrate STEM learning curricula PreK through 16, increase student opportunities for experiential and informal learning. and bring education and industry closer together. For more information, visit: http://steinmanfounda.wpengine.com/economic-and-workforce-development/