WITF and PNC Foundation Open Innovative, Free Literacy Spaces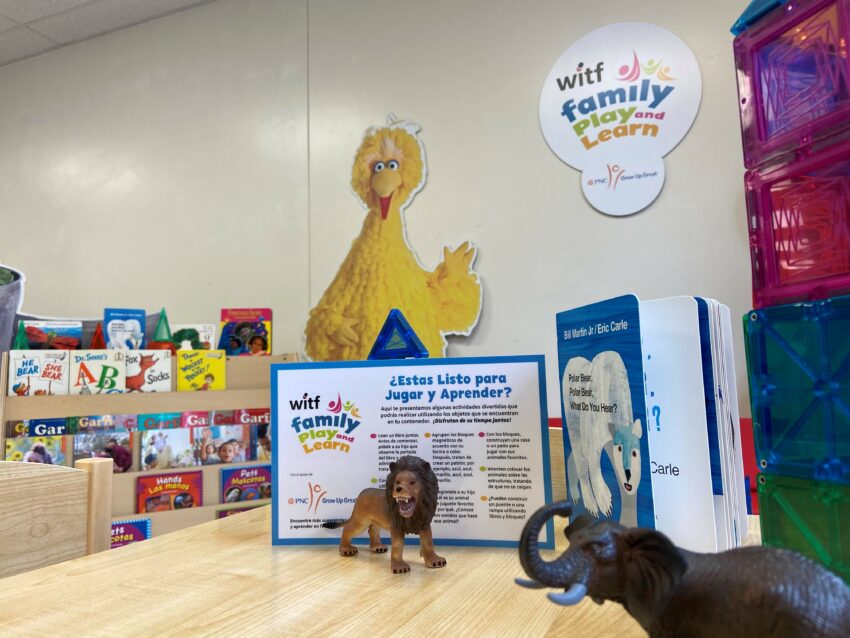 Press Release
FOR IMMEDIATE RELEASE
April 22, 2021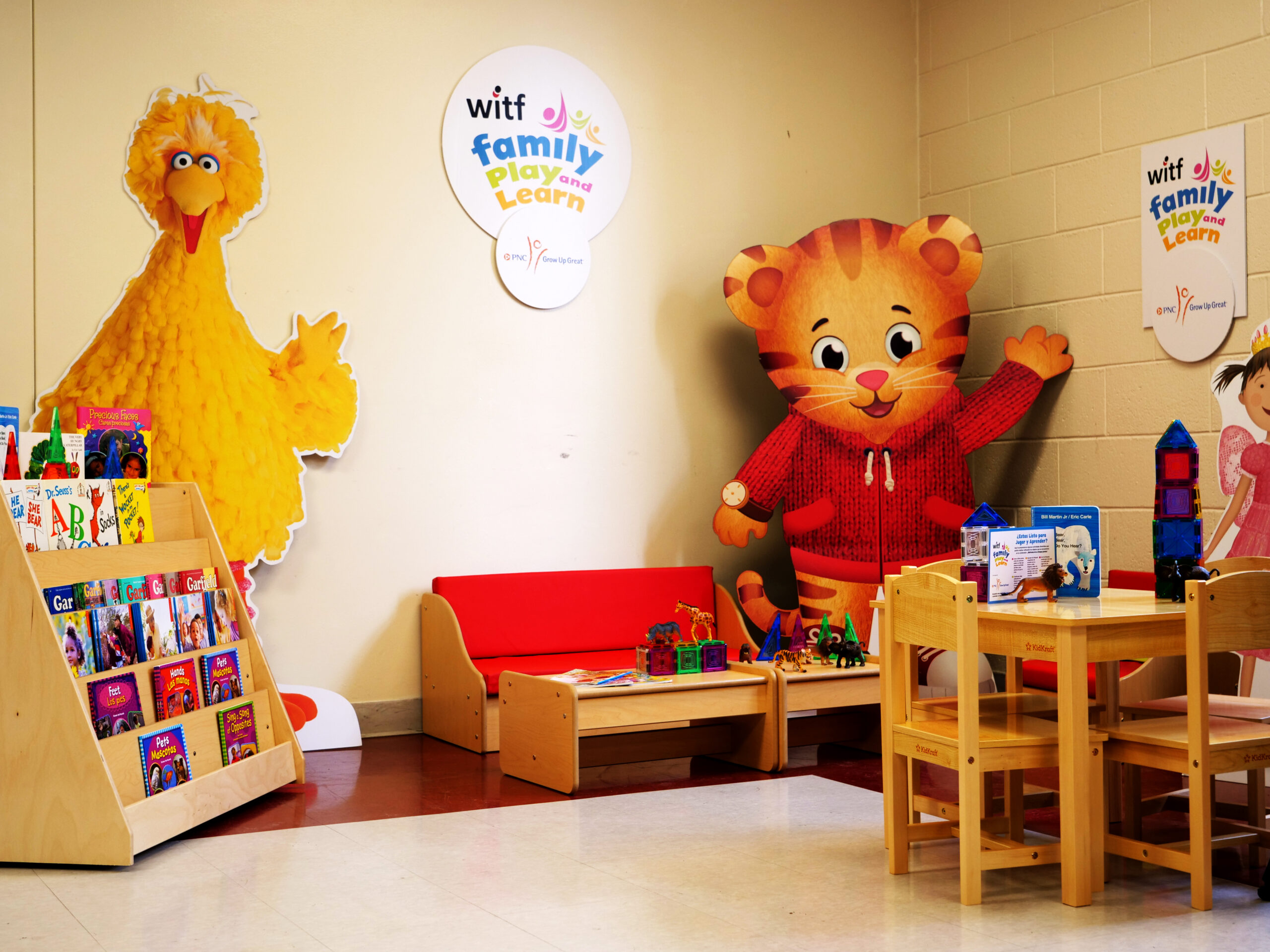 PNC, WITF Family Play and Learn Spaces Funded by Generous Grant;

  
Transform Central Pa. Waiting Rooms into Learning Opportunities
Lancaster, Pa., April 22, 2021 – WITF and the PNC Foundation announced the opening of three new WITF Family Play and Learns in Lancaster and York made possible by a $75,000 grant from the PNC Foundation. The free literacy and play spaces are designed to offer young children access to reading, vocabulary development, science and math resources during what otherwise would be unstructured waiting time at community centers. 
"Today, we are delighted to officially open three of six new WITF Family Play and Learn spaces, thanks to the generous grant funding from the PNC Foundation," said Ron Hetrick, WITF president and CEO at a ribbon-cutting ceremony outside of Bright Side Opportunities Center on Hershey Avenue in Lancaster. "WITF began serving our neighbors with educational television in 1964; we are proud to continue to fulfill our mission of inspiring lifelong learning by connecting our communities to educational experiences with WITF Family Play and Learns."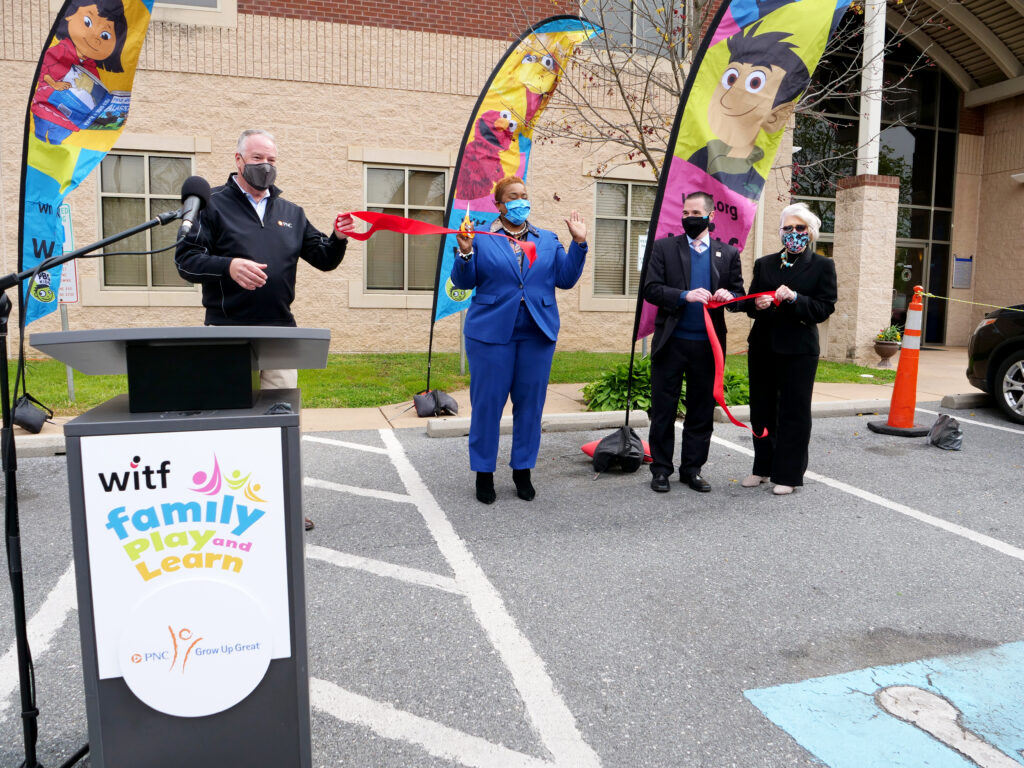 The other locations opening today are at Crispus Attucks Community Center on Howard Avenue in Lancaster and York City Community of Hope on Boundary Avenue in York. Each location offers an open area with child-sized furniture, including a couch, table and chairs, and bookshelves. When families with young children are waiting for services, they can check out an activity bin full of pre-sanitized educational materials to take to the space. Each bin has magnet blocks, plastic animal figures, a curated selection of board books and bilingual activity idea cards with suggestions for creative ways to play. Families also can check out a PBS KIDS Playtime Pad, which is preloaded with more than 20 educational games and over 100 video clips that teach reading, math, and more. 
"WITF Family Play and Learn spaces are a creative way to meet families where they are and turn what would otherwise be unstructured waiting time into an opportunity for children to learn," said Jim Hoehn, PNC regional president for Central Pa. "Ninety percent of a child's brain develops by age five, so PNC supports local organizations like WITF that are finding innovative ways to provide children with high-quality educational opportunities during that critical stage."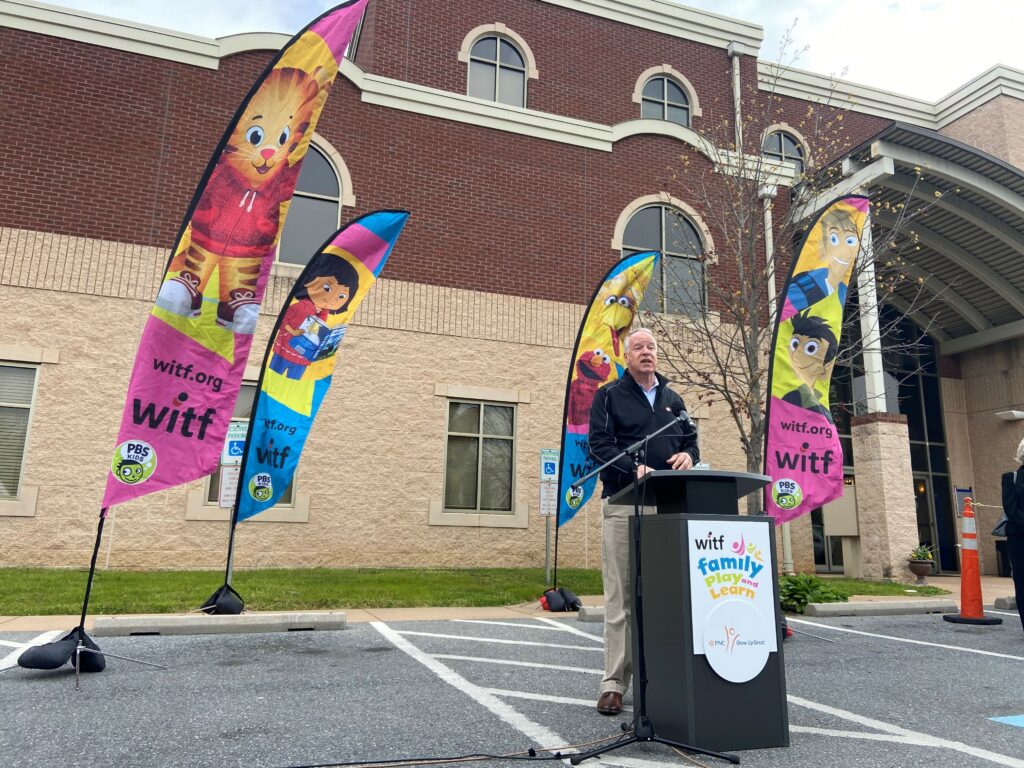 PNC Grow Up Great® is a $500 million, multi-year, bilingual initiative that began in 2004 to help prepare children from birth to age five for success in school and life. Rooted in the understanding that education, particularly early education, is a means for economic and social mobility, PNC Grow Up Great supports nonprofit organizations that work to improve school readiness and promote high-quality early childhood education. The mission is to positively contribute to stronger, smarter and healthier children, families and communities. 
Bright Side Opportunities Center focuses its efforts on providing opportunities for people to thrive emotionally, physically, and intellectually. 
Willonda McCloud, president and CEO at Bright Side, shared her excitement about the partnership with WITF. "This will allow us to continue advancing one of our core goals of educating our younger population," McCloud said. "Often, young children will accompany family members to the center, but won't have anything to do. The WITF Family Play and Learn will help children whose parents are in our facility or while their older siblings are participating in our programs. This is a great addition to Bright Side."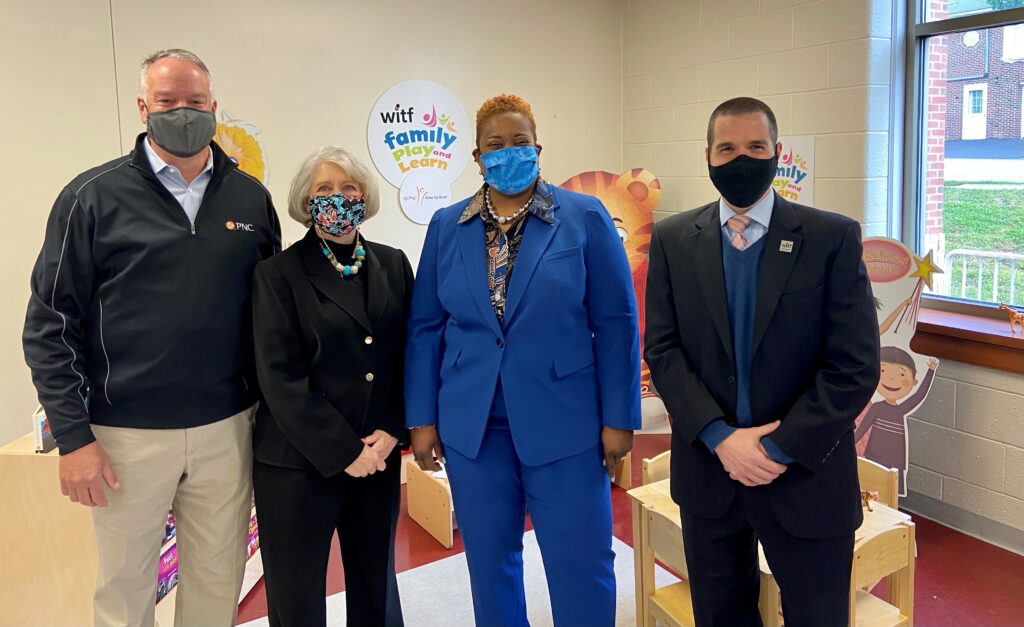 When it is safe for children to gather and share toys, WITF will add more to each site. Plans for the future include adding a mini puppet-theater, wide selection of books, blocks and art supplies. 
Community Progress Council, which provides the York City Community of Hope program to the residents of the Hannah Penn school neighborhood, states its mission is to increase resilience in children, youth and families through innovative practices that encourage neighborhood participation and engaged community partnerships.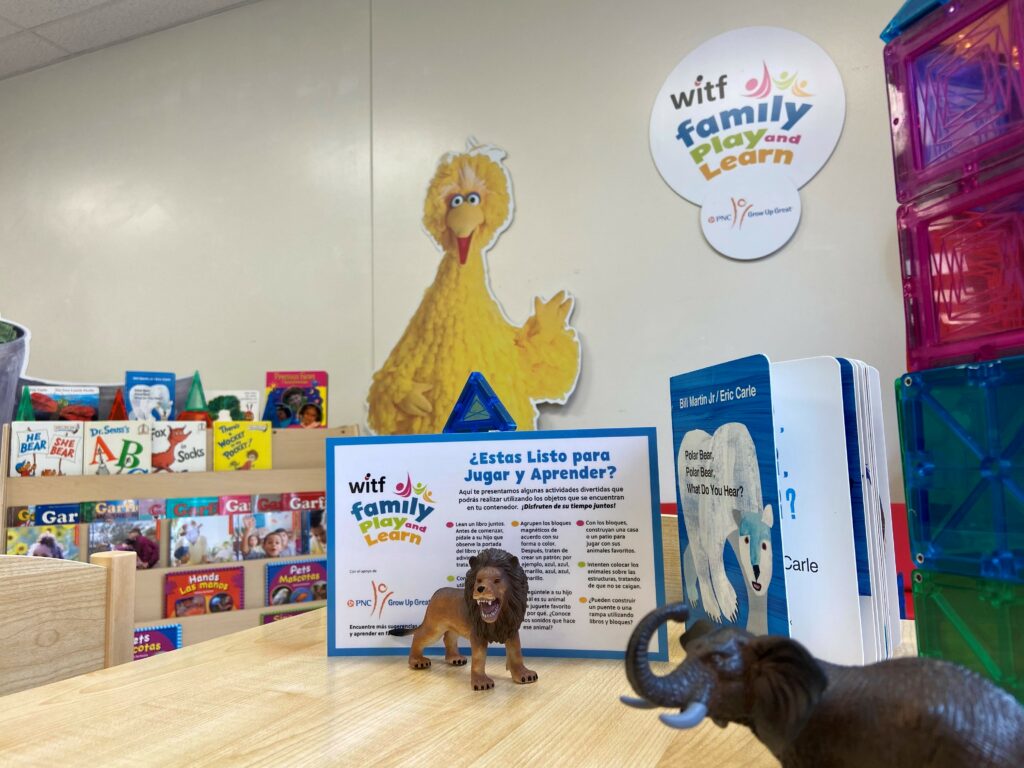 "Community Progress Council is always looking for ways to further engage the community," said Robin Rohrbaugh, Community Progress Council president and CEO. "The WITF Family Play and Learn space is a great fit for the York City Community of Hope program and its work to provide residents with resources and support to grow and thrive." 
Josh Hunter, director of The Crispus Attucks Community Center, sees the space as a sign of hope. "For many of the families we serve, COVID-19 has disrupted their structure, limited their resources and put a curve on education. WITF Family Play and Learn spaces will bring back hope for a sense of normalcy and provide opportunity for us to engage with our community in a very meaningful way." 
More information about WITF Family Play and Learn locations can be found at witf.org. 
For more information, please contact: 
WITF – Sarah Sheehan, sarah_sheehan@witf.org, 717.919.8924 
### 
About Bright Side Opportunities Center 
Created to address the unique needs of Southwest Lancaster City, the Bright Side Opportunities Center offers a wide range of services and resources to provide opportunities for all—especially the youth—within our community. We believe a strong community is made up of healthy individuals, and focus our efforts on providing opportunities for people to thrive emotionally, physically, and intellectually. 
About Crispus Attucks Community Center 
Since 1927, the Crispus Attucks Community Center has been an anchor in Southeast Lancaster City. The organization has a proud history of providing educational and cultural programs to preserve, promote and celebrate African American heritage, serving meals to individuals in need, and focusing on youth education and leadership development. Crispus Attucks takes immense pride in its mission to improve the quality of life for youth and families in Lancaster by providing services that promote community prosperity, physical and mental health, and by offering programs and cultural events which preserve the African American heritage. 
About Community Progress Council 
Founded in 1965, Community Progress Council is York County's nonprofit community action agency, whose mission is to empower individuals and families to move toward self-sufficiency and advocate for change to promote community growth. CPC provides comprehensive, integrated services for low- and moderate-income people of all ages, with programs that include early childhood education through Head Start, Early Head Start and Pre-K Counts; housing, financial and employment counseling; nutrition support and education via Women, Infants and Children (WIC); York City Community of Hope; and the agency's Self-Sufficiency Program that helps residents of York County reach financial stability. Learn more at www.YorkCPC.org. 
About PNC Foundation 
The PNC Foundation, which receives its principal funding from The PNC Financial Services Group (www.pnc.com), actively supports organizations that provide services for the benefit of communities in which it has a significant presence. The foundation focuses its philanthropic mission on early childhood education and community and economic development, which includes the arts and culture. Through Grow Up Great, its signature cause that began in 2004, PNC has created a bilingual $500 million, multi-year initiative to help prepare children from birth to age 5 for success in school and life. For more information, visit http://www.pncgrowupgreat.com. 
About WITF 
WITF is a trusted provider of public media news and programming for approximately 2.3 million people in 19 counties of Central Pennsylvania, encouraging children and adults to Live Inspired®. A member station of PBS and NPR, WITF's media services include public television (WITF TV and WITFK PBS KIDS 24/7), public radio (WITF 89.5 & 93.3), websites (including witf.org, TransformingHealth.org, stateimpact.npr.org/Pennsylvania, and ExplorePAhistory.com), and a production services division (Media Solutions). WITF's mission is to inspire lifelong learning by connecting people and communities of Pennsylvania through trusted journalism, thoughtful discussion and educational experiences. WITF engages minds and enriches lives. For more information, visit witf.org.