DVS Announces 2023 DVS Catalysts for Change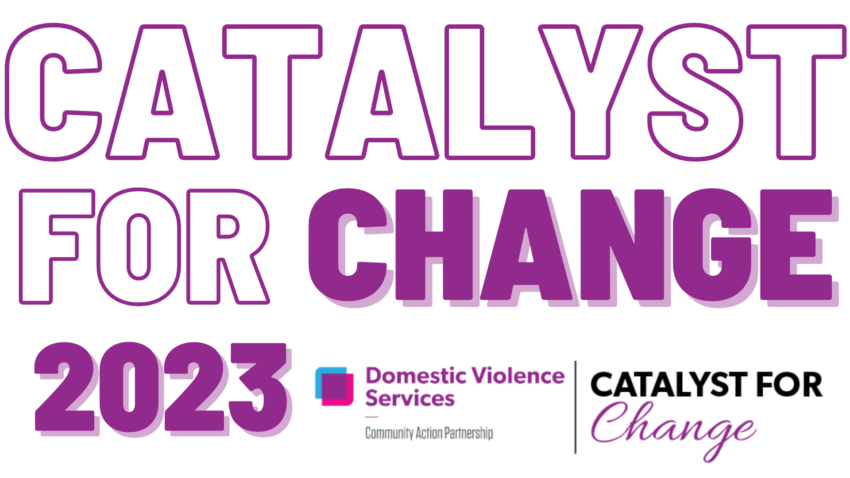 Lancaster, Pa. – Domestic Violence Services (DVS), a program of the Community Action Partnership (CAP), is honored to announce two 2023 Recipients of the DVS Catalyst for Change Award. Bob Newell has been named the 2023 Catalyst for Change Award winner and Chris LaBoy with CNM Auto Repair has been named the 2023 DVS Business Catalyst for Change winner.
The Catalyst for Change Award, established in 2019, recognizes individuals or organizations who have made significant contributions to the mission of Domestic Violence Services (beyond the requirements of professional work) to be a catalyst to end domestic violence in Lancaster County through direct service, advocacy and/or social change efforts.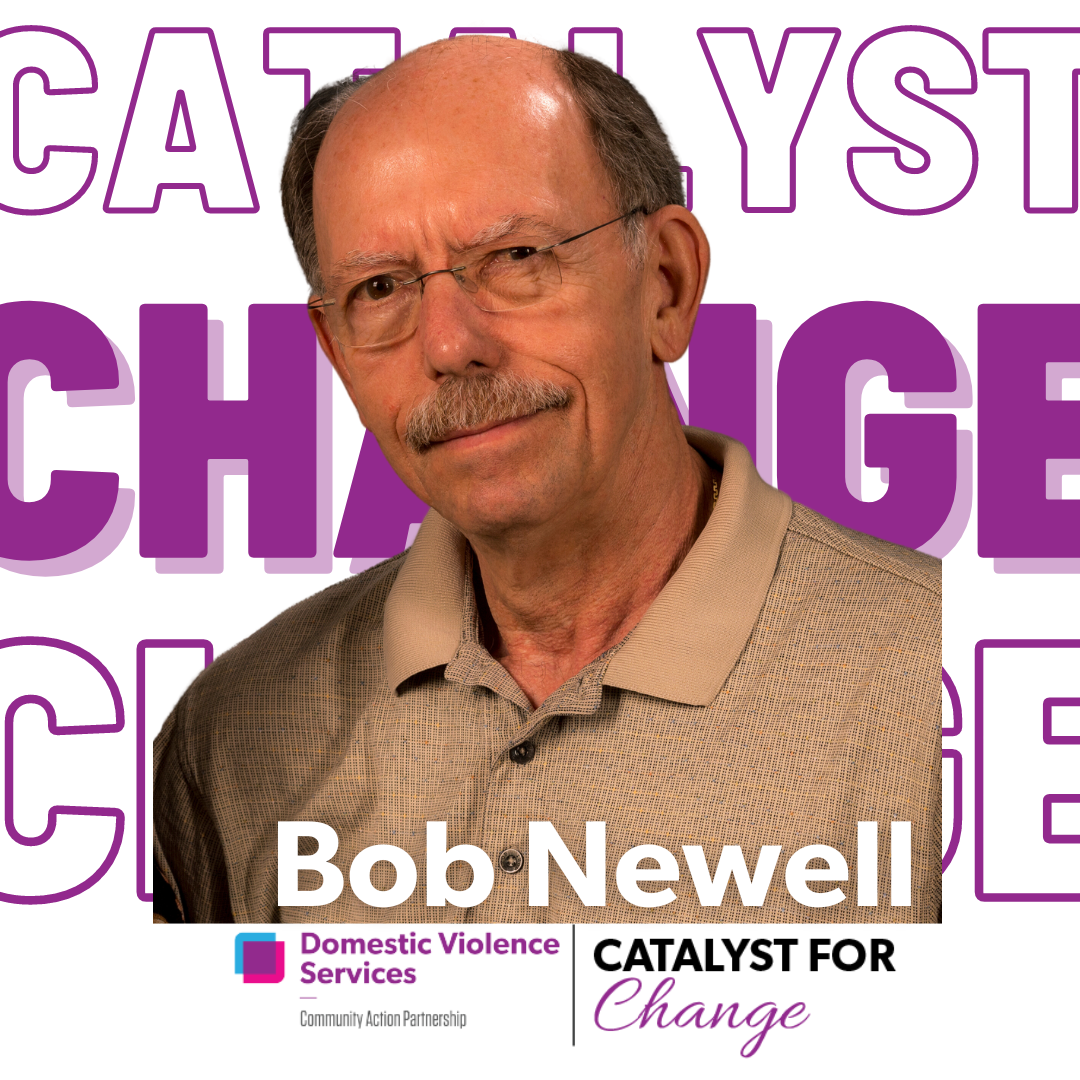 Bob Newell organized, mobilized and launched Moravian Manor Communities (MMC) residents to champion the anti-violence mission of Domestic Violence Services. Because of his work, 75 residents and families contribute gifts and financial support to DVS three times a year – – Mother's Day, as children head back to school, and at the holidays. Bob also encourages residents to contribute to the DVS kitchen pantry and to support DVS during times of crisis. 
Bob was nominated by Rick Kinder. From the nomination: "Bob's launch of the DVS support program at MMC has definitely built awareness and understanding of DVS efforts. As a team member, I can relate that our team has been together all three years, with members now asking when is the next program. This collaboration between DVS and MMC goes both ways. Our residents receive your e-newsletters, which adds to the interchange and understanding. Photos are sent to residents, further expanding awareness of DVS issues, challenges and positive support."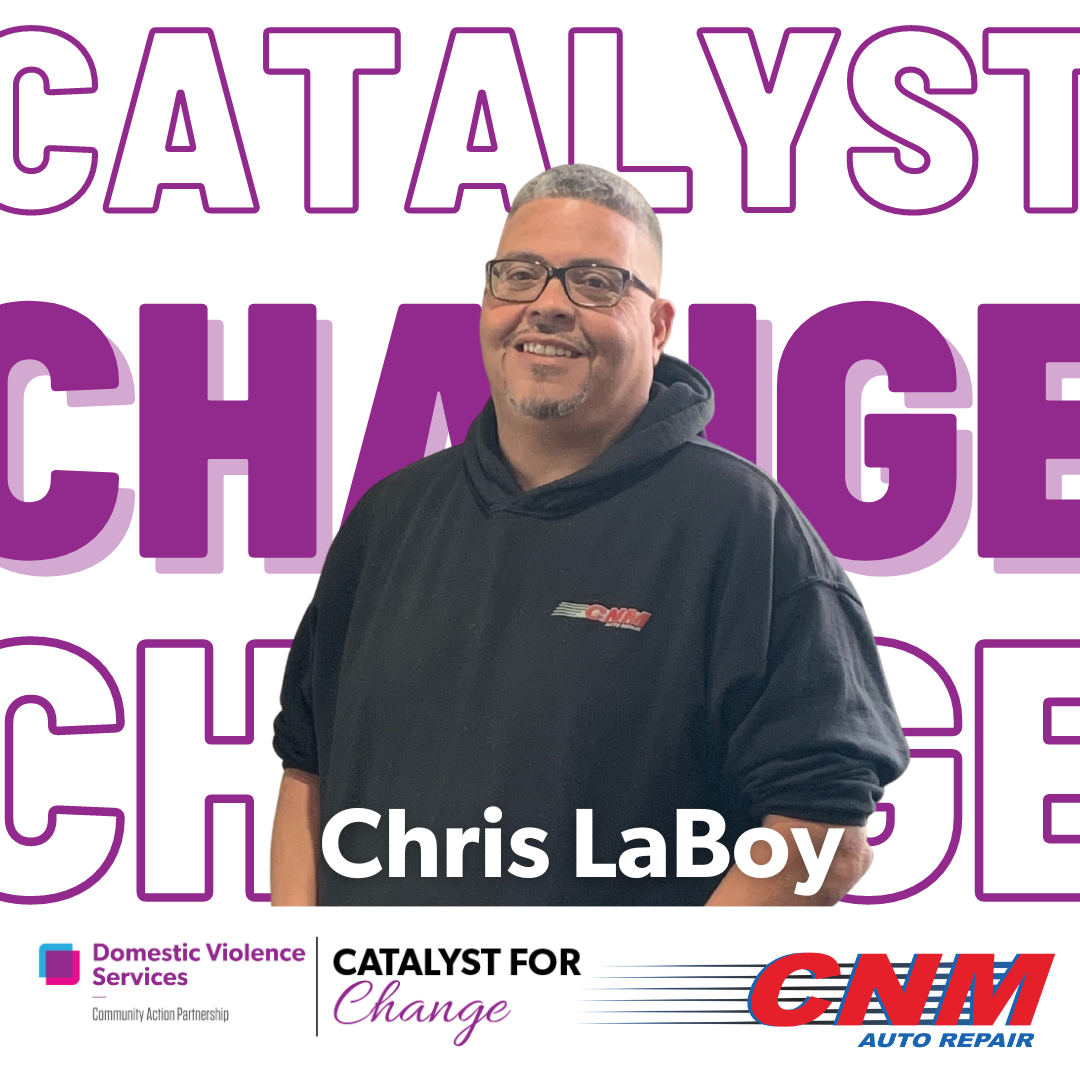 Chris LaBoy is the owner of CNM Auto Repair. Chris attended DVS's fall mixer in 2022 and decided he would like to serve DVS clients in the community in the way that he knew how – servicing cars. Chris offers 10 hours of donated labor per month to DVS clients, in addition to discounted services and parts. He has offered educational sessions to clients to help them learn skills to maintain their vehicles, and he has helped find vehicles to be donated to survivors. DVS and Chris started working together in November 2022, and since then he has donated 32 hours and $3,102.19 worth of labor to DVS clients along with discounted parts.
Chris was nominated by Amber Livengood. From the nomination: "In the very first month that we partnered with Chris, he was able to donate $800 worth of labor to one of our participants, whose car required significant work. This is something that this single mother of five likely would not have been able to do without Chris's help. Chris recognizes the importance of having a reliable, safe vehicle, and the independence and stability that comes with it. This is a specific need that DVS has not been able to meet previously. Chris has displayed compassion and respect for survivors in his work in seeking out the opportunity to help without being asked." 
Previous winners include: 
Dana Hamp Gulick, 2022

Linda Gort, 2021 

Fran Kane, 2020 

Susan Van Zant, 2019 
Bob and Chris will be recognized at the DVS Annual Mixer on Thursday, May 4. Tickets can be purchased by CLICKING HERE. DVS is also offering 'Pay-What-You-Will' Tickets, click here. 
#
About Domestic Violence Services (DVS) of Lancaster County
DVS is a catalyst to eliminate domestic violence in Lancaster County through direct service, advocacy, and social change. DVS offers 24/7 hotline and text line, emergency shelter, counseling, children's programming, legal advocacy and representation, and transitional housing. All services are free of charge and strictly confidential. DVS hosts professional trainings and community education and prevention sessions for schools, businesses and community and faith-based organizations. For more information, visit caplanc.org/DVS.
About the Community Action Partnership (CAP) of Lancaster County
The Community Action Partnership is Lancaster County's largest anti-poverty organization, helping low-income families move toward financial empowerment. CAP's service profile interrupts generational poverty with programs that support families and individuals at every age and place in life, in the areas of education and child development, health and nutrition, household stability and safety and empowerment. For more information, visit www.caplanc.org.