October is Domestic Violence Awareness Month – Domestic Violence Services 2022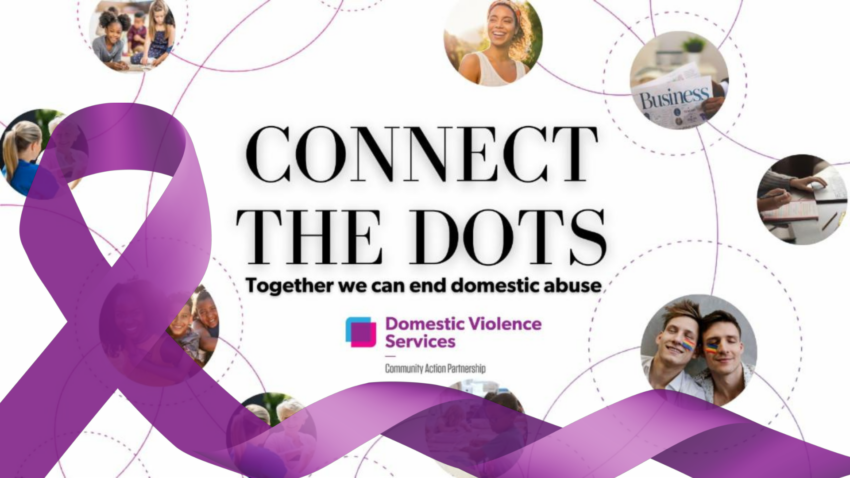 Contact: Christine A. Gilfillan, Director, Domestic Violence Services
Tel: 717.291.5826 ext. 3148
Email: cgilfillan@caplanc.org
September 26, 2022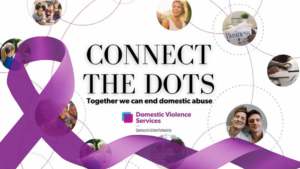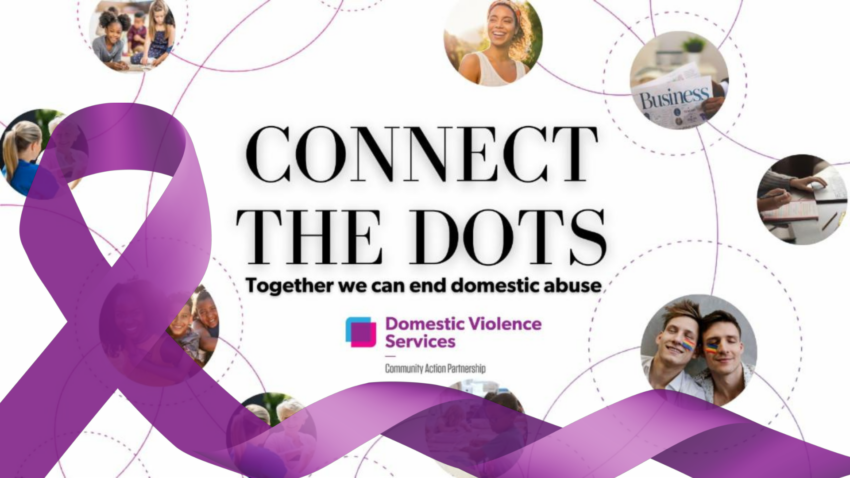 OCTOBER IS DOMESTIC VIOLENCE AWARENESS MONTH
EVENTS PLANNED TO RAISE AWARENESS
Lancaster, Pa. – Domestic violence (DV) or intimate partner violence (IPV) impacts millions of people each year, and it can be prevented. It requires the collective voice and power of survivors and individuals, families, institutions, and systems – whose stories of strength, support, and resilience add valuable and powerful components to transforming our communities.
Last year, Domestic Violence Services (DVS), a program of Community Action Partnership, served 1,817 local victims of domestic violence, including 86 children. According to the Centers for Disease Control and Prevention, 1 in 4 women and 1 in 9 men have experienced contact sexual violence, physical violence, and/or stalking by an intimate partner in their lifetime.
This year has been a year of growth and resilience for DVS. Our 2022 theme, "Connect the Dots," speaks to the work being done to make the necessary connections between DVS and survivors, DVS and professional systems and organizations, and DVS and the broader community.
Finding a safe, affordable, permanent home for their family is one of the biggest challenges that domestic violence survivors face. To meet this need, DVS is preparing to launch several new initiatives with funding from The Office on Violence Against Women (OVW) and the Department of Housing & Urban Development (HUD). A housing team devoted to DV survivors, which will provide trauma-informed supportive services at each stage of the housing process, is expected to launch November 1.
"Domestic violence or intimate partner violence continues to be a major public health epidemic in our communities," DVS Director Christine Gilfillan said. "For survivors experiencing homelessness, safe, affordable permanent housing may seem out of reach, yet it is their number one priority."
"By increasing supportive services for housing needs, survivors will be in a position to truly thrive."
To honor the resilience of domestic violence survivors, DVS will present various events with the theme, "Connect the Dots", throughout the month of October. Please join us!
MEDIA EVENT (not open to public)
Thursday, Sept. 29
Domestic Violence Awareness Month launch, 8:30 to 9:15 a.m., The Ware Center – Owen Salon, 42 North Prince Street
PUBLIC EVENTS
September 26-29
Silent Witness Project at the Ephrata Library, 550 S. Reading Rd., Ephrata
September 30 to October 11
Silent Witness Project at the County Government Center, 150 N. Queen Street
October 11 to 14
Silent Witness Project at Penn Medicine Suburban Outpatient Pavilion, 2100 Harrisburg Pike
Wednesday, Oct. 12
Healthcare Cares about Domestic Violence Day
Saturday, Oct. 15
October 17-21
Silent Witness Project at Elizabethtown College, Bowers Center for Sports, Fitness & Wellbeing, 1 Alpha Drive, Elizabethtown
Thursday, Oct. 20
DVS Fall Mixer, 5:30 to 7:30 p.m., Altana, 26 E. King Street (Ticketed event)
Wear Purple Day – community photo op (wear purple!), 8:15 a.m. Musser Park, 135 North Lime Street
October 21-27
The Silent Witness Project at Thaddeus Stevens College, Jones Building Cafeteria, 750 East King Street
Tuesday, Oct. 25
Wednesday, Oct. 26
Speaking Witness: DV Survivor Speak-Out, 7 p.m. at the Ware Center, Owen Salon
Sunday, Oct. 23
Bakers Uprising Bake Sale & Community Fair, 11 a.m. to 2 p.m. (or until sell-out), Musser Park
October 27-31
The Silent Witness Project at the LGBTQ+ Coalition, 117 E. Chestnut Street
##
About Domestic Violence Services 
DVS is a catalyst to eliminate domestic violence in Lancaster County through direct service, advocacy, and social change. DVS offers 24/7 hotline and text line, emergency shelter, counseling, children's programming, legal advocacy and representation, and transitional housing. All services are free of charge and strictly confidential. DVS hosts professional trainings and community education and prevention sessions for schools, businesses and community and faith-based organizations. For more information, visit caplanc.org/DVS.
About Community Action Partnership 
The Community Action Partnership is Lancaster County's largest anti-poverty organization, helping low-income families achieve economic empowerment. CAP's service profile interrupts generational poverty with programs that support families and individuals at every age and place in life, in the areas of education, health, household stability and safety and empowerment. For more information, visit www.caplanc.org.