Oh My Gourd! Squash Recipes! – Health & Nutrition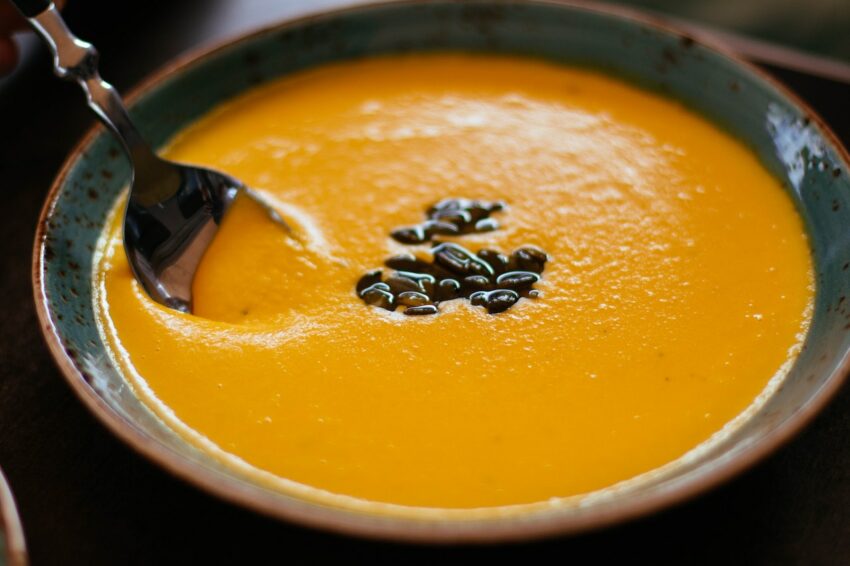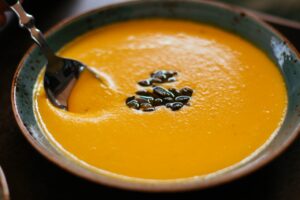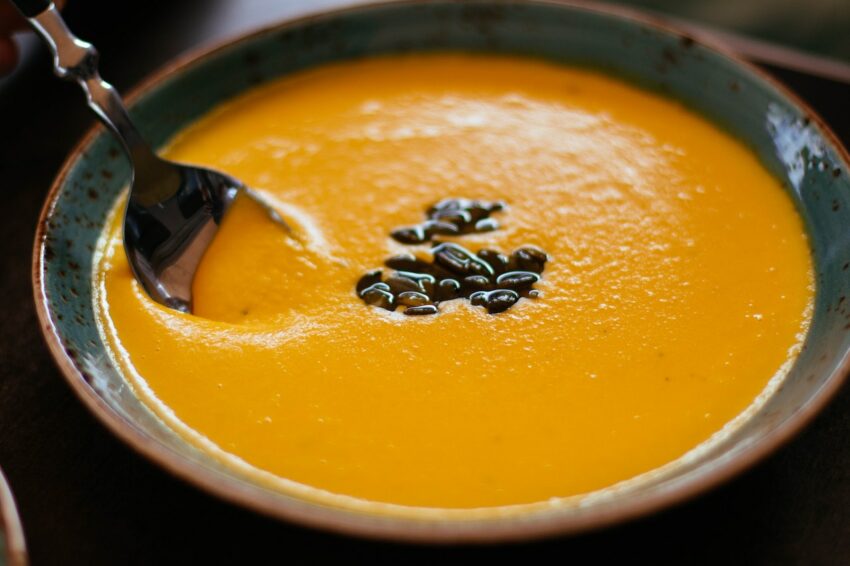 Did you know that Squash is high in vitamins A, C, and antioxidants? Vitamin A helps keep our eyes healthy, vitamin C boosts our immune system and antioxidants help prevent diseases. So, check out these yummy recipes and stay health with Squash!
Transform your favorite pasta dish into a low-carb meal with this secret ingredient:
Spaghetti squash gets its name from the fact that you can shred the cooked flesh into long strands that resemble a super thin spaghetti or angel hair pasta. It is also a very smart—and healthful—replacement for spaghetti and other pastas, thanks to its low glycemic index, low-carb nature, and similar al dente texture. (But let's be clear: Spaghetti squash is not pasta. It will never be pasta. Don't try to trick anyone, because it's simply not pasta!) However, it's a really delicious vegetable in its own right. Thanks to its mild taste, it can take on a variety of other flavors, which is why it's often used as an alternative to pasta. We'll teach you how to cook spaghetti squash right here.
Give it a try if you're looking to cut carbs, calories, or refined flour from a meal without totally missing out on the pasta factor (thank you, Mother Nature!). A big bowl of spaghetti squash allows you to still indulge while keeping things on the healthier side. Once you coat the stringy squash in your favorite sauce, you'll probably forget that you're trimming off almost 30 grams of carbs and about 160 calories in each 1 cup serving.
Ingredients
1 spaghetti squash
Extra virgin olive oil, for rubbing
Kosher salt and freshly ground pepper
Directions
Preheat the oven to 350˚. With a sharp knife, very carefully cut the spaghetti squash in half lengthwise. (Stick the knife into the center of the squash, then cut down. Again, be careful!) Scoop out the seeds and pulp in the center and discard. Place the squash, cut side up, on a large baking sheet. Rub a little olive oil over the cut surface, then place the pan in the oven for 1 hour or until a fork is easily inserted into the squash.
When the squash is cooked, use a fork to scrape the stringy squash out of the shell. Add the squash to a bowl; drizzle with olive oil and season with salt and pepper.
—
Curried Butternut Squash Soup
Ingredients
[one_half]
2

 

tablespoons

 

butter

1

 

cup

 

finely chopped onion

4

 

cloves

 

garlic, minced

4

 

cups

 

chicken broth

2

 

pounds

 

cubed butternut squash

2

 

teaspoons

 

curry powder
[/one_half]
[one_half_last]
1

 

teaspoon

 

salt

½

 

teaspoon

 

ground cumin

¼

 

teaspoon

 

cayenne pepper

½

 

cup

 

half-and-half

2

 

tablespoons

 

honey

¼

 

cup

 

sour cream, or to taste (Optional)
[/one_half_last]
Melt butter in a large pot over medium heat. Add onion and garlic; cook and stir until softened and browned, 10 to 15 minutes.

Stir chicken broth, squash, curry powder, salt, cumin, and cayenne pepper into the onion mixture and bring to a boil. Reduce heat to low and simmer until squash is tender, about 15 minutes. Remove from the heat.

Stir half-and-half and honey into the squash mixture.

Fill blender halfway with the squash mixture. Cover and hold the lid down with a potholder; pulse a few times before leaving on to blend. Pour into a pot. Repeat with remaining squash mixture.

Ladle soup into serving bowls and top with a dollop of sour cream.
---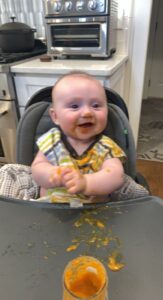 Butternut has a sweet and nutty flavor, and it takes on a velvety texture when roasted. Like sweet potato puree, it's is the ideal compliment to a variety of other veggies, fruits, and meats. Here's how to make butternut squash puree.
Step 1: Select & Buy Butternut Squash
Peak growing season is early fall through winter. Look for butternut squash that is firm and free of cracks, bruises, or soft spots. If purchasing a package of peeled, cut butternut squash, choose squash with a deep orange color (the deeper the color, the riper and sweeter it is). A roasted 1.6-pound butternut squash yields about 14 ounces of puree.
What to Know About Feeding Your Baby the First Year
Step 2: Wash and Prep the Butternut Squash
Rinse the butternut squash in cold water, scrubbing the skin with a small vegetable brush to remove dirt. If you've purchased pre-peeled and cut butternut squash, place in a colander and rinse with cold water.
Step 3: Cook the Butternut Squash
Whole squash: Cut butternut squash in half lengthwise (leave skin on). Use a spoon to scoop out the seeds. Place squash on a baking sheet that has been brushed with a bit of olive oil and roast at 400 degrees F. Check the squash after 30 minutes to see if it is soft and can be easily scooped with a spoon. If not, keep adding 5 minutes of roasting time until it is. Remove squash from oven and scoop the flesh into a bowl. Allow it to cool.
Peeled and cut squash: Bring water to a boil in a medium saucepan. Add the squash pieces and cook until tender, about 15 minutes. Drain and rinse squash under cool water to stop the cooking process.
12 Healthy Finger Foods That Don't Come From a Box
Step 4: Puree the Butternut Squash
Puree butternut squash in a food processor or blender until smooth. Add water as needed to reach the desired consistency. Once baby is ready for finger foods, typically around 10 months, you can serve her butternut squash that's been cooked and cut into tiny pieces.
Step 5: Serve Butternut Squash Puree
Butternut squash is very mild—ideal as a first vegetable by itself—or mixed with other veggies, fruits, meats, and spices.
Step 6: Refrigerate or Freeze Leftover Butternut Squash Puree
Cool butternut squash puree and refrigerate leftovers in BPA-free containers for up to 3 days. Freeze leftovers for up to 3 months. Thaw overnight in your refrigerator.
#
About Women, Infants and Children (WIC)
The Women, Infants, and Children Nutrition Program (WIC) supports pregnant women, mothers and caregivers of infants and young children to keep themselves and their families healthy. WIC provides nutrition services, breastfeeding support, healthy foods, and referrals to health and social services. For more information visit, caplanc.org/WIC