Royer's Flowers Donates $1,000 to Community Action Partnership of Lancaster County
FOR IMMEDIATE RELEASE
Contact:
Neal Goulet
717-350-1568
Royer's Flowers Donates $1,000 to Community Action Partnership of Lancaster County
Benefits Domestic Violence Services (DVS) of Lancaster County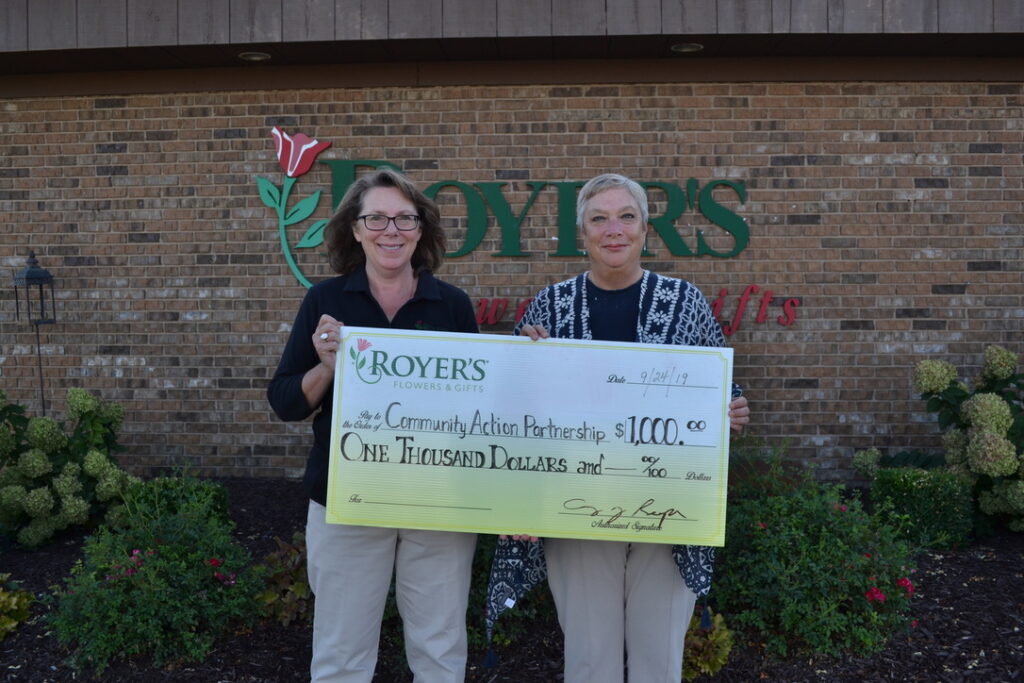 LEBANON, Pa. (Oct. X, 2019) – Royer's Flowers & Gifts has donated $1,000 to the Community Action Partnership of Lancaster County.
The funds are earmarked for CAP's Domestic Violence Services program, which provides emergency shelter, counseling, legal and housing services, and children's programming for victims of domestic violence and their children.
Family-owned Royer's (royers.com) donates $10 to women's charities for every purchase of its "Admiration" arrangement.
Lebanon-based Royer's has 15 stores in Berks, Cumberland, Dauphin, Franklin, Lancaster, Lebanon and York counties. Sister company Stephenson's Flowers & Gifts has one Harrisburg store.
###
Photo: From left, Cheryl Brill, Royer's COO, and Christine Gilfillan, Domestic Violence Services director.
About Domestic Violence Services of Lancaster County
The mission of DVS is to be a catalyst to eliminate domestic violence through direct service, advocacy, and social change. Over the past forty years, 75,593 survivors of abuse have received 379,513 nights of shelter and 572,050 hours of counseling, among other supportive services. DVS hosts regular community education and prevention sessions for many agencies, schools and faith-based organizations.
About the Community Action Partnership
The Community Action Partnership is Lancaster County's largest anti-poverty organization, helping low-income families move toward self-sufficiency. CAP's service profile interrupts inter-generational poverty with programs that support families and individuals at every age and place in life, in the areas of education and child development, health and nutrition, household stability and safety and empowerment. For more information, visit www.caplanc.org.