The Fierce Urgency of Now – 34th Annual Rev. Dr. Martin Luther King, Jr. – In Context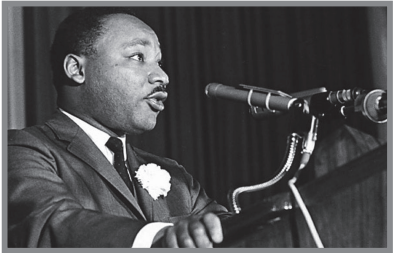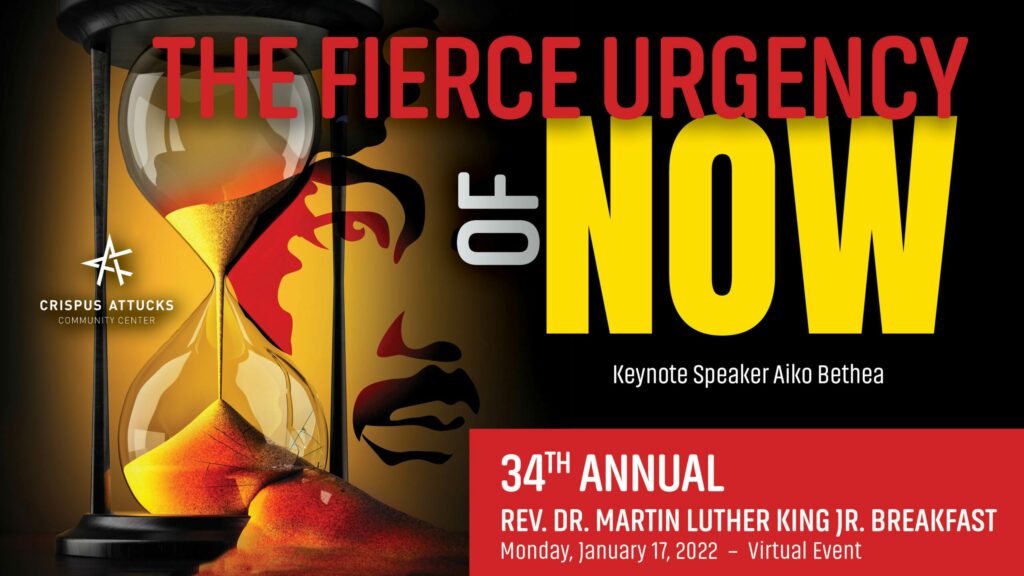 The theme of the 34th Annual Rev. Dr. Martin Luther King Jr., Breakfast program is "The Fierce Urgency of Now," a reference to Dr. King's 1963 "I Have a Dream" speech in which he said, "We have … come to this hallowed spot to remind America of the fierce urgency of now. This is no time to engage in the luxury of cooling off or to take the tranquilizing drug of gradualism. Now is the time to make real the promises of democracy. Now is the time to rise from the dark and desolate valley of segregation to the sunlit path of racial justice."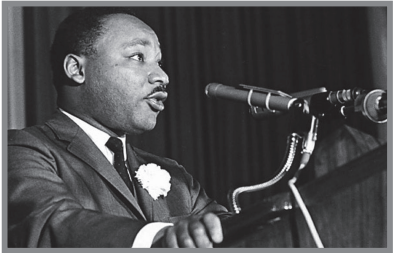 In this speech Dr. King describes the harmful effects that conditions and institutions that perpetuate racial inequality have on our society, however the urgency he refers to is not simply a reactive one born out of the need for change to occur. It is a call to action, a challenge to each of us to believe in our ability to affect the world in which we live, and seize that power, understanding that a more just society is possible if we take action together. There is no virtue in waiting.
Last month, Martin Luther King III made headlines when he Tweeted, "No celebration without legislation. On January 17, join me to honor my father and the #MLKLegacy as we call on Congress and the White House to eliminate the Jim Crow filibuster and pass voting rights to protect millions of Black and Brown voters."
Understandably, this caused many organizations to re-consider plans to commemorate what would be Dr. King's 93rd birthday. But as Dr. Bernice A. King, CEO of The King Center, stated in a video message, "The issue is not really 'will we be celebrating,' but how will we be celebrating, or – more appropriately – commemorating the King holiday. So let me be clear from the outset: We will be commemorating the King holiday, and we are encouraging all of you to continue your commemorations as well. However, if voting rights is still hanging in the balance by the King holiday, on January 17, 2022, then we – meaning all of us – must collectively use our various commemorations and our platforms on that particular day to do what Dr. King would do. My father would speak and act in a way to ensure that this nation lives up to its promise of democracy by putting pressure on our United States Senate to bypass the filibuster and instead of taking the King holiday off, they should make it a day on to pass the voting rights act."
Dr. Bernice King goes on to speak of a need to shift priorities. She says, "Individually and collectively we must shift our priorities to – yes – focus on voting rights, but also a livable wage, affordable housing and healthcare, quality education, the overdue criminal justice reform, green initiatives to reduce climate change, and other critical issues relative to social, economic, and ecological justice."
And THIS is the fierce urgency of now. We know there is work to be done, and we must not sit idle. To create a more equitable community, we must understand that we cannot wait to begin shaping the future we hope to see, instead, we must do all we can now to create the present our community deserves.
###
For more information about the 34th Annual Rev. Dr. Martin Luther King Jr. Breakfast and to purchase tickets, visit CAPLanc.org/MLK.
##
About Crispus Attucks Community Center
Since 1927, the Crispus Attucks Community Center has been an anchor in Southeast Lancaster City. The organization has a proud history of providing educational and cultural programs to celebrate African American heritage, serving meals to individuals in need, and focusing on youth education and leadership development.  Crispus Attucks takes immense pride in its mission to improve the quality of life for youth and families in Lancaster by providing services that promote community prosperity, physical and mental health, and by offering programs and cultural events which preserve the African American heritage. For more information, visit caplanc.org/crispusattucks
About the Community Action Partnership (CAP) of Lancaster County
The Community Action Partnership is Lancaster County's largest anti-poverty organization, helping low income families move toward self-sufficiency. CAP's service profile interrupts inter-generational poverty with programs that support families and individuals at every age and place in life, in the areas of education and child development, health and nutrition, household stability and safety and empowerment. For more information, visit www.caplanc.org.