The prevalence of domestic violence is never lost on those who work every day to serve survivors. For others, it can be easy to dismiss domestic violence as a private matter and overlook its widespread prevalence. But chances are likely you know someone who is experiencing or has experienced violence by an intimate partner or family member, even if you aren't aware of it happening. In fact, 1 in 4 women and 1 in 7 men will experience domestic violence in their lifetimes.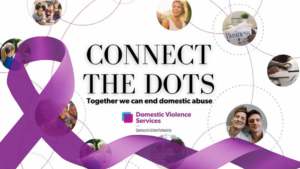 That's why each year October is acknowledged as Domestic Violence Awareness Month. Domestic Violence Services is committed to ending domestic abuse in Lancaster County through advocacy, direct services and social change. We need the continued support of you, our supporters and community, to achieve this mission.
Last year, Domestic Violence Services (DVS), a program of Community Action Partnership, served 1,719 local victims of domestic violence, including 86 children. DVS provided 5,796 hours of services to adults through our: 24-hour hotline, individual and group counseling, case management services at our emergency safe house and bridge house, and civil legal services at our legal center. The 86 children engaged in our services received 312 hours of trauma informed support in individual and group settings.
We invite you, our community and allied professional partners, to join us this year as we Connect the Dots to raise awareness about domestic abuse, have conversations about the needs of domestic abuse victims/survivors and our role as a community in supporting them, and building relationships to create systemic changes in Lancaster County.
---
Domestic Violence Awareness Month Events 
DVS – Domestic Violence Services – DVAM 2022 Calendar
Thursday, September 29, 8:30 am – DVAM Launch  

Domestic Violence Awareness Month Launch Event 8:30 am – 9:30 am Ware Center – Owen Salon

Join us as we celebrate the start of an exciting month of Connecting the Dots.

Wednesday, October 5, at 9:00 am – DVAM Proclamation 

Lancaster County Commissioners will proclaim October as Domestic Violence Awareness Month at their monthly Commissioners Meeting.

Wednesday, October 12, All Day – Healthcare Cares about DV 

Join us in thanking and celebrating our healthcare partners.
Friday, October 14, 3:00-8:00pm – OctoFURfest 

Furdunkin is hosting a community-wide event celebrating our furry family members. DVS will attend with information about our Pet Program…come out and learn more. Don't forget your pup!

Location: 1090 N Charlotte St Suite 102, Lancaster, PA 17603

Saturday, October 15, 2022 – EPAC presents The Color Purple – A Community Talk Back after the performance

The Ephrata Performing Arts Center, Sharadin Bigler Theatre, 320 Cocalico St, Ephrata PA

EPAC partners with DVS this year to host a community talk back panel discussion after the October 15th performance. Support our local performing artists and join in thoughtful conversation around the themes presented in the performance and the every day reality of victims/survivors living in our community. For tickets to the performance: https://www.epactheatre.org/tickets/

Thursday, October 20, All Day – Purple Thursday 

Wear your purple and share your enthusiasm with DVS on social media throughout the day! #DVSLanc #WearPurple #LoveShouldntHurt
We're taking group photos! Find your brightest, loudest purple and join us at Musser Park at 8:15 am for a community photo!

Thursday, October 20, 5:30 – 7:30 pm – DVS Fall Mixer 

Come out and meet the 2022 Catalyst for Change Award recipient. Learn more about DVS and Connecting the Dots happening in the community

Location: Altana, 26 E King St, Lancaster, PA 17602
Sunday, October 23, 11:00 am – Bakers' Uprising & Community Health Fair

During this event, we lean into our social change commitment with our Bakers Uprising friends who are back for a third year to host a bake sale for DVS. Local bakers bring out their goods for your purchase (and donation to DVS). We've also invited pet bakers to join us this year, making this a family and pup-friendly event for the entire family!

Location: Musser Park, 135 N Lime St, Lancaster, PA 17602

Tuesday, October 25, 12:00 pm – Touchstone Foundation Lunch & Learn Book Discussion 

Our friends at the Touchstone Foundation have invited DVS to facilitate their monthly book/media discussion in October. More details to follow about registration and what to read/view in preparation for this conversation.

Speaking Witness – Stories from Domestic Violence Survivors 

October 26 at 7:00 pm – The Ware CEnter, Owen Salon
We're going back in person to bear witness to the stories and experiences of our neighbors who have survived domestic abuse and are thriving in our community. They want us to know about their experiences in an effort to advocate for change and with hope that others will avoid becoming victims themselves by learning from the life lessons they share.

Fran's Garden Dedication

Time TBD, Location: DVS Bridge House
Catalyst for Change recipient in 2020, Fran Kane, will be celebrated with a garden at DVS Bridge House where she volunteered for more than 10 years as a family mentor. A children's playground design will be unveiled – learn how you can support the development of this site for our families who live at Bridge House.
---
Silent Witness National Initiative
Remember My Story.

Remember My Name.
In 1990, the Silent Witness Initiative began promoting and education to support an end to domestic violence through community-based exhibits.  It started with a small group of volunteers in one state and grew into an international presence, with projects in all 50 states and 23 countries. Silent Witness International is the leading voice that honors the lives of domestic violence homicide victims through family support, community connections, and advocacy for change.
DVS, Penn Medicine Lancaster General Health and Lancaster County District Attorney's Office have partnered together for more than 20 years to tell the stories of those who lived in Lancaster County and lost their lives as a result of domestic abuse. "Hear" their stories as presented by these life size figurines.
DVS – Domestic Violence Services – Silent Witness Project Calender
September 26 – 29

Ephrata Library
550 South Reading Rd
Ephrata PA 17522
September 30 – October 11

Lancaster County Government Center
(Chestnut Street Window Display)
150 N. Queen Street
Lancaster PA 17603
October 11 -October 14 (morning)

Penn Medicine Suburban Outpatient Pavilion
2100 Harrisburg Pike
Lancaster Pa 17603
October 17 – October 21

Elizabethtown College
Bowers Center for Sports, Fitness, Well-Being
1 Alpha Drive
Elizabethtown PA 17022

October 21—October 27
Thaddeus Stevens College
Jones Building—Cafeteria
750 East King Street
Lancaster, PA 17602
October 27 – October 31
Lancaster LGBTQ+ Coalition
117 E Chestnut St
Lancaster PA 17602
For additional questions regarding the schedule, please contact Whitney Barbusca at 717-544-4308
---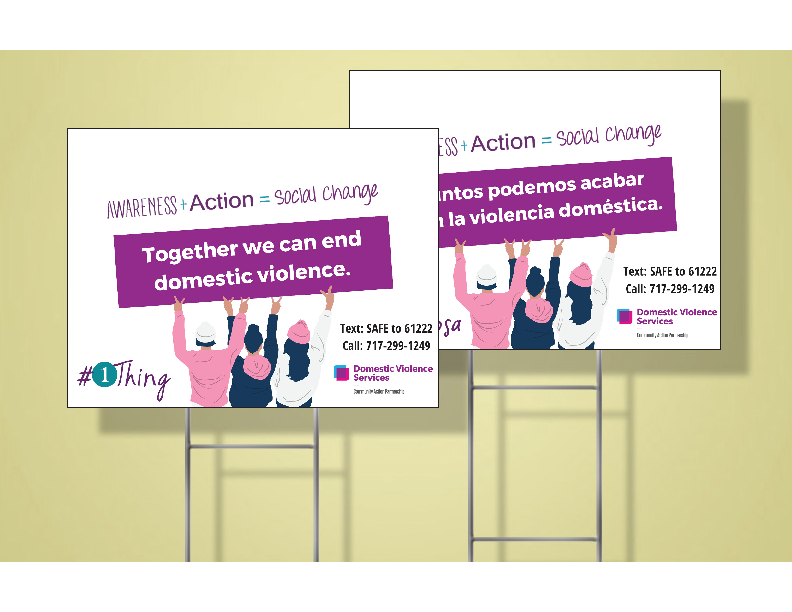 Domestic Violence Awareness Month Signs 
Help spread the word about domestic abuse and DVS services. Let's bring the conversation out of the shadows of shame!
Domestic Violence Services (DVS) of Lancaster County is offering Yard/Window signs to display your support for victims and survivors of abuse. To claim your sign, please fill out the form below and someone from our team will contact you for further details to pick up your sign.
Although these signs are provided to you at no cost, please consider a donation (suggested $25) to support our community outreach efforts.
At this time, this campaign is reserved to Lancaster County residents.
For any questions, please contact marketing@caplanc.org.
---
How Can I Help?
Do you want to help domestic violence survivors, but you aren't sure what you can do? We're here to help.
We hope you will join us in standing up for survivors in October and always. Here's how you can get involved:
Wear purple on October 20. Show us your purple using #DVAM, #DVSLanc
Follow us on social media throughout October to stay up to date.
---
Sponsorships
Sponsorships are available and the key to our success! We will seek business, organizational and individual sponsorships for our year-long series of events – as a package. Sponsors will receive even more recognition than in the past, as they will be featured at the various events throughout the year.  Learn more about being a DVS: Trailblazer, Visionary, Dreamer and Friend:
For more information, please contact:
Kristy Aurand • Phone: 717-299-7388, ext. 3032 • Email: kaurand@caplanc.org
Visionary
Sharon Hargrave
Dreamer
Peg Brown
Lenny Walton & Linda Gort
Friend
Angie's Custom Cleaning LLC
Tony & Sherry Chivinski
EHD
Fulton Bank
The GIANT Company
HDC
Highmark/Penn State Health
Inspire Her Within by Rebeka Fillmore
McNees Wallace & Nurick LLC.
Michael & Fran Kane
Medtrition, Inc.
Schwanger Brothers & Co.
Tom & Barbra Smithgall
TW Ponessa & Associates
UPMC Central PA and UPMC Health Plan
---
About Domestic Violence Services
DVS is a catalyst to eliminate domestic violence in Lancaster County through direct service, advocacy, and social change. DVS offers 24/7 hotline and text line, emergency shelter, counseling, children's programming, legal advocacy and representation, and transitional housing. All services are free of charge and strictly confidential. DVS hosts professional trainings and community education and prevention sessions for schools, businesses and community and faith-based organizations. For more information, visit caplanc.org/DVS.
About Community Action Partnership
The Community Action Partnership is Lancaster County's largest anti-poverty organization, helping low income families move toward self-sufficiency. CAP's service profile interrupts inter-generational poverty with programs that support families and individuals at every age and place in life, in the areas of education and child development, health and nutrition, household stability and safety and empowerment. For more information, visit www.caplanc.org.