The prevalence of domestic violence is never lost on those who work every day to serve survivors. For others, it can be easy to dismiss domestic violence as a private matter and overlook its widespread prevalence. But chances are likely you know someone who is experiencing or has experienced violence by an intimate partner or family member, even if you aren't aware of it happening. In fact, 1 in 4 women and 1 in 7 men will experience domestic violence in their lifetimes.
That's why each year October is acknowledged as Domestic Violence Awareness Month. It provides an opportunity to remember victims of domestic violence, raise awareness of what domestic violence is, how to recognize it, and what we can all do to collectively prevent it.
In Pennsylvania, we also dedicate the month of October to remember all of the victims whose lives were tragically cut short as a result of domestic violence.  Domestic Violence Awareness Month serves as a reminder that domestic violence isn't a private matter. It affects the safety and well-being of whole families and communities and can quickly turn lethal.
Last year, Domestic Violence Services (DVS), a program of Community Action Partnership, served 1,788 local victims of domestic violence, including 132 children.
While 2020-21 was a year of stunning loss and isolation due to COVID-19, it was also a year of innovation and resilience. Domestic Violence Services (DVS) of Lancaster, as an essential community service, has continued to serve victims, uninterrupted, by showing up where we are needed – and by embracing technology. Virtual counseling sessions and text hotline conversations have become the norm and provide broader access to services for survivors. Emergency Safe House spaces have been renovated and reconfigured to increase safety. A new Economic Empowerment program was launched. 
To honor the resilience of domestic violence survivors, DVS will present various events with the theme, Survivor to "Thriver": A Celebration of Resilience, throughout the month of October. Please join us. 
---
Domestic Violence Awareness Month Events 
Click here to download the calendar (.pdf)
October 1

Monthly Kick-off event 8:00 am – 9:30 am Ware Center – Owen Salon
Sidewalk Graffiti for First Friday at Penn Square
Tabling & Silent Witness Display 5-10p Ware Center

10/3-10/9

Brightside Opportunities Center Fallfest 10/9 @ 12-5p

10/13

Healthcare Cares about DV Day
10/17 – Bakers Uprising Bake Sale – Musser Park, 12-2 pm or while supplies last
10/22 – Wear Purple Day
10/24-10/30

10/24 @ 11am-7pm Lancaster PRIDE
10/25 @ 6pm Book Discussion: The Invisible Bruise at Ephrata Public Library
10/26 @ 6-8p Purple Carnival at Millersville University
10/27 Survivor Speak Out, Virtual
10/28 @ 6:30pm Book Discussion: The Invisible Bruise at New Holland Public Library
---
Silent Witness National Initiative
Remember My Story.

Remember My Name.
In 1990, the Silent Witness Initiative began promoting and education to support an end to domestic violence through community-based exhibits.  It started with a small group of volunteers in one state and grew into an international presence, with projects in all 50 states and 23 countries. Silent Witness International is the leading voice that honors the lives of domestic violence homicide victims through family support, community connections, and advocacy for change.
Many men and women die each year in acts of domestic violence in the United States.  Each one has a story.  Join our efforts to end this tragedy. Because we need to remember their stories. We need to remember their names.
Click here to download the calendar (.pdf)
October 1st—October 3rd
Ware Center
42 N. Prince Street
Lancaster PA 17603
October 4th– October 8th ( morning)
Government Center
150 N. Queen Street
Lancaster PA 17603
October 8th-October 17th
Ephrata Library
550 South Reading Rd
Ephrata PA 17522
October 18th-October 22nd (morning)
Elizabethtown College
Bowers Center for Sports, Fitness, Well-Being
1 Alpha Drive
Elizabethtown PA 17022
October 22nd-October 27th(morning)
Millersville University Student Memorial Center
1 S. George St.
Millersville PA 17551
October 27th—November 1st
Thaddeus Stevens College
Jones Building—Cafeteria
750 East King Street
Lancaster, PA 17602
For additional questions regarding the schedule, please contact Whitney Barbusca at 717-544-4308
---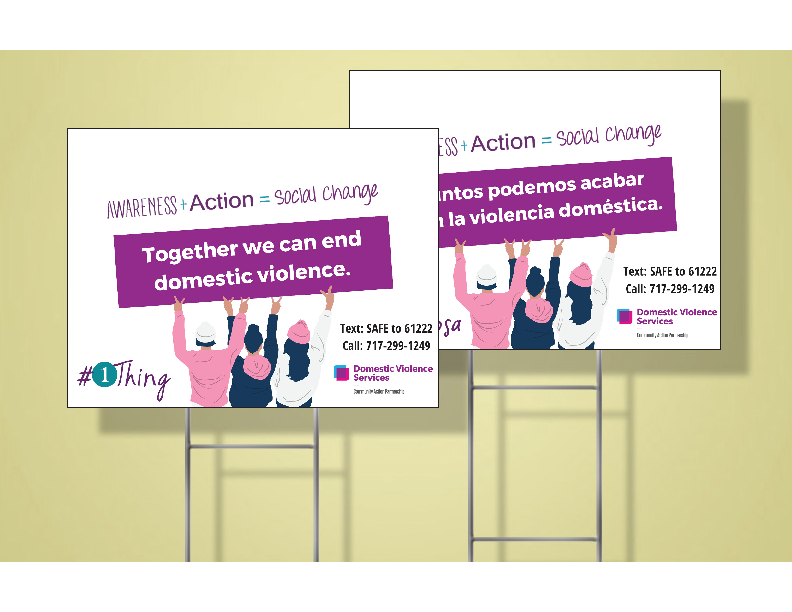 Domestic Violence Awareness Month Signs 
In collaboration with Whiteoak, Domestic Violence Services (DVS) of Lancaster County is offering FREE Yard/Window signs to display your support for victims and survivors of abuse. To claim your free sign, please fill out the form below and someone from our team will contact you for further details to pick up your sign.
Although these signs are free, we're asking if you can provide a donation to support DVS's programs and services (min. $25). Fill out the form below to reserve your FREE sign today!
At this time, this campaign is reserved to Lancaster County residents.
For any questions, please contact marketing@caplanc.org.
---
How Can I Help?
Do you want to help domestic violence survivors, but you aren't sure what you can do? We're here to help.
We hope you will join us in standing up for survivors in October and always. Here's how you can get involved:
Wear purple on October 22. Show us your purple using #DVAM, #DVSLanc
Follow us on social media throughout October to stay up to date.
---
About Domestic Violence Services
DVS is a catalyst to eliminate domestic violence in Lancaster County through direct service, advocacy, and social change. DVS offers 24/7 hotline and text line, emergency shelter, counseling, children's programming, legal advocacy and representation, and transitional housing. All services are free of charge and strictly confidential. DVS hosts professional trainings and community education and prevention sessions for schools, businesses and community and faith-based organizations. For more information, visit caplanc.org/DVS.
About Community Action Partnership
The Community Action Partnership is Lancaster County's largest anti-poverty organization, helping low income families move toward self-sufficiency. CAP's service profile interrupts inter-generational poverty with programs that support families and individuals at every age and place in life, in the areas of education and child development, health and nutrition, household stability and safety and empowerment. For more information, visit www.caplanc.org.