October is Domestic Violence Awareness Month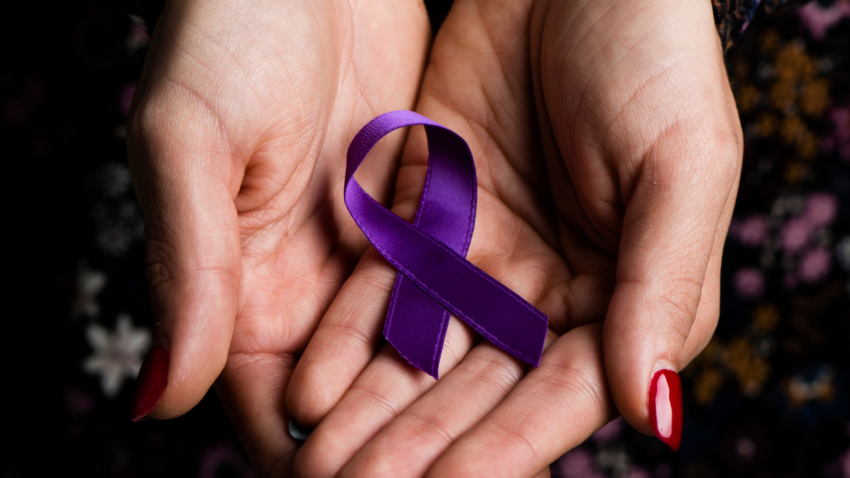 Lancaster, Pa. – Domestic violence affects millions of people each year, regardless of age, gender, race, or socioeconomic status.  
Last year, Domestic Violence Services (DVS), a program of Community Action Partnership, served 1,808 local victims of domestic violence. According to the Centers for Disease Control and Prevention, 1 in 4 women and 1 in 9 men have experienced contact sexual violence, physical violence, and/or stalking by an intimate partner in their lifetime. 
Domestic Violence Awareness Month (DVAM) serves as a crucial reminder of the ongoing need to address this pervasive issue and support survivors. This year's DVAM theme, "Join the Movement," calls on individuals, communities, and organizations to come together in a collective effort to end domestic violence.  
"For DVAM 2023, we are asking the community to "Join the Movement" to end domestic violence, to ensure survivors thrive, and to encourage safe and healthy relationships, among other things," DVS Director Christine Gilfillan said. "A collective movement is important because survivors have shared with us that they would benefit from more advocacy and more seamless partnerships, so we are especially focused on how we can engage the community in working together to make a difference for survivors across Lancaster County." 
Throughout October, events will take place across the country to raise awareness about domestic violence, provide resources for survivors, and host meaningful conversations. The "Join the Movement" theme underscores the importance of unity and collective action in the fight against domestic abuse. We hope you'll join us for the following: 
MEDIA EVENTS (not open to public) 
Tuesday, Oct. 3 
Domestic Violence Awareness Month launch, 9 to 10 a.m., The Ware Center – Owen Salon, 42 North Prince Street

 
Thursday, Oct. 26 
Garden Dedication, 4 p.m., DVS Bridge House (confidential address available upon request)

 

A new garden at DVS's transitional housing apartments will be dedicated to DVS volunteer and advocate Fran Kane, the 2021 Catalyst for Change Award recipient. 

 
PUBLIC EVENTS 
Sunday, Oct. 1 
4

th

Annual Bakers Uprising Bake Sale & Community Health Fair, 11 a.m. to 2 p.m. (or until sell-out), Musser Park, 135 N. Lime St.

 

Indulge your sweet tooth for a good cause! Join us for a delectable bake sale and a community health fair, promoting overall well-being alongside the fight against domestic violence. 

 
Wednesday, Oct. 4 
Lancaster County Commissioners DVAM Proclamation, 9:15 a.m., Lancaster County Government Center, 150 N. Queen St.

 
Tuesday, Oct. 10 
Lancaster City Council DVAM Proclamation, 6 p.m., Lancaster City Hall, 120 N. Duke St.

 
Thursday, Oct. 19 
Day of Unity – Wear Purple Day

 

Wear purple to show your support for domestic violence awareness. Share photos on social media and tag @cap_lanc on Instagram; and @DVSLanc on Facebook and Twitter

 
Friday, Oct. 20 
Sidewalk Chalk with the Lancaster City Police Department, 9 a.m., Lancaster City Police Bureau, 39 W. Chestnut St.

 

A creative and interactive event, working alongside the Lancaster City Police Department to spread awareness through sidewalk chalk art.

 
SILENT WITNESS TOUR (open to public) 
9/26 to 10/9 – Lancaster County Government Center, 150 N. Queen St. 

 

10/9 to 10/12 - Penn Medicine Suburban Outpatient Pavilion, 2100 Harrisburg Pike

 

10/12 to 10/16 – F& M College, Steinman College Center Atrium, 600 College Ave.

 

10/16 to 10/20 – Elizabethtown College, Bowers Center, 1 Alpha Drive, Elizabethtown

 

10/23 to 10/26 Thaddeus Stevens College, Jones Building Cafeteria, 750 E. King St.

 

10/26 to 10/30 Ephrata Public Library, 550 S. Reading Rd., Ephrata

 

10/30 to 11/3 Millersville University, Student Memorial Center, 1 S. George St., Millersville 
About Domestic Violence Services  
DVS is a catalyst to eliminate domestic violence in Lancaster County through direct service, advocacy, and social change. DVS offers 24/7 hotline and text line, emergency shelter, counseling, children's programming, legal advocacy and representation, and transitional housing. All services are free of charge and strictly confidential. DVS hosts professional trainings and community education and prevention sessions for schools, businesses and community and faith-based organizations. For more information, visit caplanc.org/DVS.  
About Community Action Partnership  
The Community Action Partnership is Lancaster County's largest anti-poverty organization, helping individuals and families living with low income achieve economic empowerment. CAP's service profile interrupts generational poverty with programs that support families and individuals at every age and place in life, in the areas of education, health, household stability and safety and empowerment. For more information, visit www.caplanc.org.