WIC Nutritionists Accepted into PA DOH WIC Dietetic Internship Program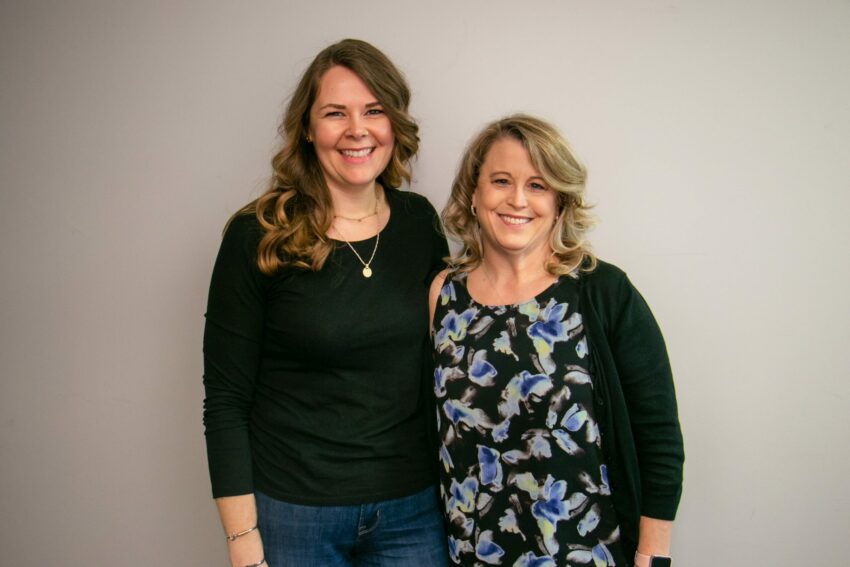 Katelyn Smith (left) & Elizabeth Welchans (right)
Katelyn Smith and Elizabeth Welchans, WIC Nutritionists, were both accepted into the PA WIC Dietetic Internship program. Through this program, they will work towards their Registered Dietician Nutritionist certification while maintaining employment with WIC.
The PA WIC Dietetic Internship provides an opportunity for PA WIC local agency employees who have met the eligibility requirements for Registered Dietitians to participate in an ACEND accredited program that engages them in core competencies through a supervised practice program. Throughout the program, dietetic Interns develop the necessary competence in various areas and populations providing dietetic services.
This 43-week intensive program will focus on community nutrition/public health consisting of a minimum of 1250 hours* of supervised practice.
"I just feel so lucky to have been chosen for this opportunity! I'm thankful that CAP has agreed to support me throughout the program too and I can't wait to see what doors this opens up for me in the future!?" said Katelyn. Elizabeth expressed with gratitude, "I am super thankful to our Lancaster WIC program and CAP as a whole for allowing me to participate in the program and offering the utmost support in this journey. It has been a long process and I am super grateful for this amazing opportunity to learn and grow in the field of nutrition"
The biggest benefit of doing the internship is that they will be able to gain knowledge and hands-on experience. WIC is involved in a specific type of nutrition called community nutrition. But, there are many other areas in the field and the internship will allow them to learn more about those areas.
We're super excited and proud of these two incredible staff members going the extra mile to support our families and neighbors.
"This is a wonderful opportunity to invest in the continued growth and development of two excellent WIC nutritionists. This will deepen our program's nutritional expertise and allow us to strengthen our support to all WIC families, especially those who are high-risk, have medical conditions, or require special diets," said  Julie Rhoads, VP of Health & Nutrition.
Women, Infants, and Children Nutrition Program (WIC) support pregnant women, mothers, and caregivers of infants and young children to keep themselves and their families healthy. WIC provides nutrition services, breastfeeding support, healthy foods, and referrals to health and social services. Get to know Katelyn Smith and Elizabeth Welchans!
---
Meet Katelyn Smith
In my role at WIC, I am the only full-time nutritionist at the Ephrata office so I have a big role in making sure the clinic is running smoothly. I meet with customers daily to provide nutrition education, of course, but I also make sure there is helpful nutrition information posted around the office, I order supplies, I manage inventories for both breast pumps and formula, and I order formula from the warehouse for any kids here in need of special formulas.
Before CAP
Before I came to CAP, I was working in the kitchen at a hospital near Pottstown. It was a small orthopedic hospital with 12 in-patient beds that I was responsible for caring for. I worked with one other food service worker and we shared responsibilities for stocking the kitchen, maintaining equipment, purchasing food, preparing foods for patients, serving patients, and stocking visitor areas of the hospital with snacks and drinks. We also planned and catered parties at the hospital for staff. Before that job, I spent 6 years in college. I did 3 years in art school before I realized that I wouldn't be able to make a stable career out of that and I switched my major to nutrition. I have also worked at a grocery store and a dog grooming salon in the past!
What brought me to CAP
When I was working at the hospital, I was driving an hour to and from work which was a lot for me. I liked my job but I knew I wanted to do something more nutrition-related and be closer to home so I was praying for an opportunity to open up. I prayed about it for a few months until one day, out of the blue, I got an email from Judy at WIC asking me if I would like to apply to be a nutritionist at WIC since they had an opening! It was amazing timing! I had applied to WIC a few years earlier after college for a summer job distributing farmer's market checks but I hadn't gotten it. They kept my resume on file and reached out to me so it all worked out perfectly. I knew I was meant to take the job and now I've been at CAP 5.5 years.
Why I love working at CAP
Working at CAP has been a great experience for me. First of all, I love the people I work with at WIC! We are more like friends than coworkers and I've always enjoyed how well we all get along. To add to that, everyone I've worked with at CAP in other programs has also been great and I love that we collaborate like we do. Before working at CAP, I didn't know anything about low-income programs and I didn't really understand the needs of people within that group so CAP has really given me a lot of first-hand knowledge about what people face on a  daily basis. I enjoy working here for that reason as well. I feel like CAP has made me a more well-rounded person and it also helped me to be more compassionate and understanding to what other people may be going through.
CAP values
I think my favorite CAP value is compassion. Since I have worked here, I have felt my own capability for compassion has grown and I think it's the biggest part of our job. If you're compassionate to the needs of someone else, then all the other values of CAP fall into place afterwards. I'm a Christian and because of my faith, I believe that we all need to love one another and I think that love and compassion go hand in hand. Being able to show up to work with the attitude wanting to love the people that we serve and to be compassionate toward them makes our work all the more important.
What have I learned
The biggest things I've learned from our customers are resilience and the importance of being positive. I've talked to lots of families during my five years here and so many of them come in to see us with good attitudes and they are kind and they are grateful for our help. Not many of them complain about their circumstances either. They just got to work, work hard and then go home to take care of their kids. I admire so many of the moms I know from WIC for their ability to deal with the circumstances they are in and even though their situation is difficult, they seem to really try to make the best of it. I've also always been impressed with people that have come to the US from other countries like the Congo or Nepal and even know they can't speak English, they dive into our culture and do what they need to do to provide for their families. Those people are the best testament to resilience that I can think of.
Participating in the program
I wanted to participate in the internship program because it is such a great opportunity. Dietetic internships are usually very costly and difficult to get accepted for but when the Dept. of Health started their program, especially for WIC employees, I wanted to jump on the chance! Becoming a dietitian is the best way to further your career in the field of nutrition.
What the program allows
Once the internship is over, I will work for WIC for at least two years and I will be able to better help our customers with their diet and their health because I will have knowledge from the other areas of nutrition to pull from. After the program, I hope to come back as the full-time Ephrata nutritionist/dietitian and be able to better serve our customers here. If I do ever move on from WIC into a different area of the field, I would be most interested in working in weight management, diabetes education or sports nutrition.
For fun
For fun, I really like to cook and I LOVE to eat! I also love spending time with my husband and our dog, shopping, and spending time with my friends. I love traveling and drawing, painting and doing ceramics but I don't get to do those things as often as I would like.
Fun fact
Ever since I was a little kid (and right up until today, honestly) I have always wanted to be a cowgirl.
---
Meet Elizabeth Welchans, WIC Nutritionist
I am on the Health & Nutrition team working as a nutritionist in the WIC department. I have been working for WIC in some capacity for the last 8 years, 5 of which have been here at CAP since April 2017.
Before CAP
I spent many years at home raising my 3 daughters and working part-time as a Personal Trainer. After relocating from the York area in 2015, I was a guidance department secretary in the Lampeter-Strasburg School District
What brought you to CAP
I was looking for full-time employment since I had previous experience working at WIC, I was searching for a nutritionist position in Lancaster County when I stumbled upon an opening at CAP.
Why I love working at CAP
I love the mission of CAP, dedication of our employees serving the community and the comradery of our staff. We all work so well together to help those in the community get the tools and services they need to succeed.
CAP values
Collaboration – The old adage of 'It takes a village to raise a child' resonates with me when I think about CAP and all of the organizations that help build our strong community.
What have I learned
Resilience and treating others how they would want to be treated. Especially during COVID, I think we all learned that WE ARE ALL IN THIS TOGETHER, as cliché as it sounds, it really resonated with me.  We all struggled, we all felt vulnerable, unsure, and frustrated. We were all tired of ever-changing guidelines, requirements, and conflicting viewpoints. But in the end, we were ALL facing personal challenges, some to a different extent than others, and working together made all the difference to ensuring making healthy decisions continued to be a priority.
Participating in the program
It has been a dream of mine since graduating college to become a registered dietitian but financially could not afford to take the time off my full-time job to participate in an unpaid internship for 10 months. The program offered through the Department of Health in collaboration with the PA WIC program allows the flexibility to complete the necessary internship rounds in Clinical Nutrition, Food Service, and Community Nutrition while also continuing to be employed.
Upon completion of the program, I will be able to take the necessary steps in the certification process to become a Registered Dietitian.
What the program allows
I will continue to work for WIC in the same capacity but will be able to serve a higher-risk population, able to help serve as a preceptor for other interns in the registration process as well as be a liaison between doctors and families when feeding concerns arise.
For fun 
I LOVE to travel and camp along the way. My family has a camper and we spend summers camping frequently, mind you it is more GLAMPING (think camping with modern amenities). Photography and scrapbooking are my creative outlets when I am not spending time with my family. I also enjoy running and lifting weights.
Fun fact
I hiked 6.8 miles to the bottom of the Grand Canyon in 2015 and spent the night in a tent in 108° degree weather. The next day we hiked 9.8 miles uphill to the top. We carried all of our gear in our backpacks. My kids were 10, 12, and 16 at the time. One of the most rewarding experiences of my life.
You are never TOO old to further your education, learn something new, go outside of your comfort zone, and strive for lifelong DREAMS. My advice: JUST DO IT!
#
Best of luck team! Thank you for all that you do and continue to do for our community!
##
About the Community Action Partnership (CAP) of Lancaster County
The Community Action Partnership is Lancaster County's largest anti-poverty organization, helping low income families move toward self-sufficiency. CAP's service profile interrupts inter-generational poverty with programs that support families and individuals at every age and place in life, in the areas of education and child development, health and nutrition, household stability and safety and empowerment. For more information, visit www.caplanc.org.